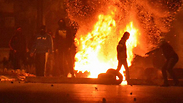 Rioting in Rahat
Photo: Police Spokesman's Unit
Policeman rescued from Rahat mob: We were sitting in the car waiting to die
Inquiry commission investigating why officers were in Rahat during funeral of man killed in police drug raid; 'We were on the way home, and we accidentally arrived at a situation we shouldn't have been in,' says one of the policemen.
Police was investigating why police cars were dispatched to Rahat at such a sensitive time, while a funeral was held for Sami al-Ajar, who was killed in a police drug raid in the city.

One of the policemen described the incident: "We went home at the end of our workday and all of a sudden we were pelted with stones. It was a massive and scary amount (of stones), from all directions. We weren't prepared for something like that. The vehicle started taking stones and it reached a life-threatening point. We were surrounded. You just sit and wait to die, or for someone to get you out, reading 'Shema Israel.'"

The police knew that its presences at the funeral might cause uproar. For this reason, it was agreed that the Rahat municipality will manage the funeral without police presence.






The policemen, meanwhile, insisted they were not lost. "We were on the way home, on a main road, and we accidently arrived at a situation we shouldn't have been in. When we realized we were somewhere we shouldn't be, it was too late."

The policemen's version of events raises questions, as the funeral procession did not go through a main traffic artery.

The rescue police force sent to extract the surrounded policemen used crowd dispersal means, including tear gas. Rahat resident Sami al-Ziadana was taken to hospital after suffering from gas inhalation, and later died from heart failure, which increased the residents' rage at police.




Police sources said: "This won't be ignored. We'll wait for the results of the (inquiry) commission, but we need to investigate the entire chain of command. How the policemen's commanders let them wander through the area when they know there's a funeral."

The Yoav Unit commander Yossi Golan said that "the policemen showed decision-making abilities, bravery and determination. The results of the incident speak for themselves. The policemen felt their lives were at risk."

When asked how the policemen found themselves at the scene, Golan said: "I won't get into that. There's a district inquiry commission that's taking care of this and investigating. The Israel Police is an institute that learns, even if someone made a mistake and reached got into such a situation - you don't need to kill him. What difference does it make what happened? What's important is how a situation happens where lawmen in the state of Israel are attacked and their lives are risked. My job is to keep supporting them and help them go back to routine activity. These are excellent policemen."

Tensions have been high in Rahat all week. Southern district police officers have been deployed to the city and its surrounding area, and are forced to protect the small police station in the city.

Internal Security Minister Yitzhak Aharonovich held a situation assessment at the Rahat police station along with Southern District commander Yoram Halevy. The minister stressed that he fully backs the policemen and that the attack on them must not go unanswered.

"We won't allow for policemen doing their jobs to be attacked by a mob that threatens to hurt them and puts their lives at risk," he said.