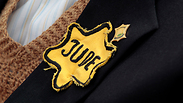 Around 15% of respondents agree Jews should carry an ID that states their religion on it
Photo: Reuters
One in four British citizens aged 18-35 believe that there is a likelihood that another Holocaust could happen in Europe during their lifetime, according to a poll undertaken by the European Jewish Congress (EJC).

Almost 60% of respondents did not know that six million Jews were killed in the Holocaust.

Anti-Semitism

A quarter of Jews in Britain considered leaving the country in the last 2 years; at least 45% of Britons agree with at least one anti-Semitic sentiment.

The survey has been released ahead of a unique and unprecedented emergency pan-European Forum in cooperation with the institutions of the European Union to discuss rising anti-Semitism and growing hate, racism and religious extremism in Europe next week.

The forum is taking place against the backdrop of the recent slaying of 16 people at Charlie Hebdo newspaper and the Hyper Cacher supermarket in Paris.

Around 15% of those surveyed agreed with the statements that the government should consider introducing laws that require Jews to carry an ID that states their religion on it, while a further fifth of respondents answered unequivocally that they "don't know," and should consider introducing laws requiring businesses owned by Jews to have some form of special identification.

Twenty-one percent felt the government should consider introducing laws requiring businesses owned by Muslims to have some form of special identification.

According to the EJC, both of these forms of discrimination were infamously part of the Nazi's Nuremberg Laws, created as part of their anti-Semitic program to identify, ostracize and eventually eliminate the Jews of Europe. When asked whether they thought these types of discriminatory were likely to be passed against Jews in Europe today, a quarter (25%) said that it was likely.

"The most worrying aspect of this survey is that a repeat of the Holocaust is no longer something outside of our wildest nightmares, and that view is shared by a significant amount of British young adults," EJC President Dr. Moshe Kantor said in response to the survey results.

"The fact that one in five or six British respondents would want to enact legal discriminatory laws against Jews and Muslims and force them to be openly identified and stigmatized as Jews were in Nazi Germany should shock us into action."

The poll, conducted by Survation, under the supervision of 202 Strategies, also demonstrated that British youth understand that anti-Semitism is rising in their country, with 52.9% stating that anti-Semitism exists in the UK today.

"These shocking results demonstrate that now more than ever we need actions to prevent a further descent into anti-Semitism, racism and xenophobia," Dr. Kantor said. "We need to harness European leadership to a high-level meeting to discuss strong and robust measures to combat anti-Semitism, discrimination and hate and a practical roadmap that deals holistically with all the threats and utilizes all tools available."

The EJC will be holding a high-level forum in Prague on January 26, in cooperation with the Czech Government and the European Parliament. The fourth International Let My people Live! Forum is organized to meet the challenges of the present and future, particularly the rise in hate, racism, anti-Semitism and xenophobia in current Europe.

This forum will be a platform for discussing the issues and finding practical solutions and recommendations for dealing with the threats.

"There is a great importance in holding a forum that will serve a practical purpose, designed to raise awareness among opinion shapers and decision makers on the three levels of leadership, political and legal spheres, so they will have the tools to act and motivate others to act," Dr. Kantor said.