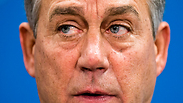 US President Barack Obama and Secretary of State John Kerry have decided not meet with Prime Minister Benjamin Netanyahu when he travels to Washington in March, the White House and State Department announced on Thursday.

In keeping with "long-standing practice and principle," the president does not meet with heads of state or candidates in close proximity to their elections, spokeswoman Bernadette Meehan said.

Netanyahu will be in Washington in part for a March 3 address to a joint session of Congress. House Speaker John Boehner invited Netanyahu to speak to Congress on February 11, but the prime minister has requested to address Congress on March 3 to coincide with Netanyahu's trip to Washington for the American Israel Public Affairs Committee (AIPAC).

The revised date is only two weeks before elections in Israel decide whether Netanyahu will continue to lead Israel.

It emerged on Wednesday that Netanyahu was invited by Boehner to deliver his third speech to Congress, addressing the threat posed to the US and the world by Iran and radical Islam. Boehner confirmed that the invitation had been in the works for several weeks."I did not consult the White House," he told reporters.

US State Department Spokeswoman Jen Psaki said visits by foreign leaders are usually officially announced by the government, not in Congress, and that Boehner's statement was "an episode of the bizarre" – but that the administration would not oppose the visit. "(Netanyahu) has spoken to a joint session many times in the past," Ms. Psaki said. "That's certainly not something we have opposed, nor do we oppose it, in general, in this case."

House Democrats leader Rep. Nancy Pelosi said Thursday that Boehner blundered when he invited Netanyahu to address Congress. The speech, Pelosi suggested, could give Netanyahu a political boost in elections a few weeks later and inflame international talks aimed at stopping Iran's nuclear program.

"If that's the purpose of Prime Minister Netanyahu's visit two weeks before his own election, right in the midst of our negotiations, I just don't think it's appropriate and helpful," Pelosi told reporters at her weekly news conference.

"These negotiations have gone on for a long time," Pelosi added. "They're delicate."

Associates of the prime minister denied claims that the invitation stemmed from Republicans' wish to boost Netanyahu ahead of elections, insisting that the invitation came from both parties. A Republican aide said the prime minister made the request to push the date forward so he would not have to make two separate trips to the US.

The sources added that the Americans sought to determine Israel's stance on the eve of a nuclear deal with Iran.

"The timing of the invitation was selected based on the timetable related to the powers' talks with Iran and the desire to hear Israel's position," they said. The deadline for reaching a deal with Iran has been set for July, five months after Netanyahu's speech.

The invitation came during a sensitive moment between Republicans and President Barack Obama, who was on his way to Idaho during the announcement. In the annual State of the Union address delivered Tuesday, Obama said he would veto further sanctions on Iran.

"I am honored to accept this invitation, which reflects the special friendship between Israel and the United States, as well as the strong bipartisan support for Israel throughout the US," said Netanyahu.

"Only last week, I spoke with President Obama about the shared challenges facing us from Islamic radicals, including increasing terror and Iran's ambition to attain a nuclear weapon. I look forward to the opportunity to share before the joint session Israel's vision for joint action to deal with these threads and to emphasize Israel's commitment to the relationship that ties our two people."