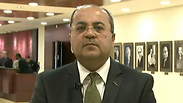 The Arab factions in the Knesset will run together on a united list, it was announced Thursday after serious political arguments that occurred over the last month.
An external committee was appointed by the Arab parties to deal with uniting the factions and forming a list.
The committee held meetings over the last few days in Kafr Qara in the Wadi Ara area. The meetings all went on for over five hours.
The most dramatic meeting occurred on Thursday, when arguments escalated into shouting over the list's composition. Some participants walked out of the talks in anger, returning only after dignitaries intervened.
Hadash and Balad held their primaries on January 17. Arguments broke out among Hadash delegates after the party's chairman, MK Mohammad Barakeh, announced officially that he would not run in the upcoming election, as some supported his decision while others opposed it.
The members finally arrived at the following list:
1. Aiman Uda (Hadash)
2. Masud Ganaim (Islamic Movement)
3. Jamal Zahalka (Balad)
4. Ahmad Tibi (UAL-Ta'al)
5. Aida Touma-Sliman (Hadash)
6. Abd al-Hakim Hajj Yahya (Islamic Movement)
7. Hanin Zoabi (Balad)
8. Dov Khenin (Hadash)
9. Taleb Abu Arar (Islamic Movement)
10. Basel Ghattas (Balad)
11. Yosef Jabareen (Hadash)
12. UAL-Ta'al - Balad (rotation)
13. Hadash - Balad (rotation)
14. Hadash - Balad (rotation)
In December, MK Zoabi called for the creation of the united list, saying it would raise Arab representation from 11 to 16 seats.
A poll that same month said almost half of Israeli-Arabs wanted MK Ahmed Tibi to lead a united Arab faction, and found that 62 percent of Israeli Arabs planned to vote in the upcoming elections, compared to 56 percent who voted in 2013, and 53 percent who voted in 2009.
The Government Act passed in March 2014 raised the election threshold for political parties from 2% percent to 3.25 percent (about four seats), adding an impetus for parties that might no longer be eligible to unite.
After the Knesset officially disbanded in December, MK Tibi said that "Lieberman, who raised the electoral threshold, wants to force the Arab parties out of the Knesset," and that this called for a united list.