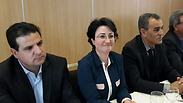 Zoabi with other members of joint list
Members of the united Arab list launched their election campaign on Friday, one day after a historic agreement was reached between four political parties that mostly represent Israel's Arab minority to run together in elections on March 17.
"Our list will be the third largest party in the Knesset and will be stronger than that of Lieberman's Yisrael Beiteinu," MK Ahmad Tibi said. "We call not only on the Arab public, but also Jews who believe in our mutual path, to vote for us. Our list is not in danger, but Lieberman's list will be in danger."
Aiman Uda (Hadash), who is the head of the new united Arab party, said: "The right-wing is called the 'national camp', Herzog and Livni formed the 'Zionist camp', and we have established the democratic camp. The Arabs are a large percentage of the country, and we will put all our weight in the next elections to ensure that the right-wing will not return to power. This will be our contribution."
Uda continued: "We oppose the approach of Arabs against Jews or Jews against Arabs. Our list, which is comprised of both Arabs and Jews, is not against the Israeli society, but fights for the Israeli society."
Opinion polls suggest the united Arab list could secure 11 seats in the 120-seat parliament, around the same level as they hold individually but with their political influence increased.
The joint slate, finalised on Thursday, was in part a bid for electoral survival since the government has backed legislation raising the threshold for getting into parliament, leaving two of the four parties on the brink of extinction.
The four - Raam (United Arab List), Taal (Arab Movement for Renewal), Balad (National Democratic Assembly) and Arab-Jewish party Hadash (Democratic Front for Peace and Equality) - cover a range of ideology from Islamist to secular to ex-Communist.
Hadash and Balad held their primaries on January 17. Arguments broke out among Hadash delegates after the party's chairman, MK Mohammad Barakeh, announced officially that he would not run in the upcoming election, as some supported his decision while others opposed it.
Pre-election polls put Netanyahu's Likud party neck-and-neck with the centre-left alliance of Labour leader Isaac Herzog and former Justice Minister Tzipi Livni. Who gets to form the next government could come down to who garners more partners.
Raam lawmaker Masud Ganaim said his four-party list may back Herzog and Livni.
"It is being considered," he said. "We think the political map will shift toward the centre-left, and in such a situation we will have an important role. We would tilt the balance."
Arabs, mostly Muslim, make up 20 percent of Israel's population. Ganaim said some 55 percent of them take part in national elections, with more than 80 percent of votes going to Arab parties while a minority back mainstream "Zionist" parties.
Balad leader Jamal Zahalka deemed the four-party list a rebuke to ultra-nationalist Israeli Foreign Minister Avigdor Lieberman, who has sought to sideline Arab politicians he deems disloyal to the state.
"Those who didn't want Arab parties to have 10 seats in parliament will see them get 15," Zahalka told Israel radio.
Lieberman's Israel Beitenu (Israel is Our Home) party, hit by corruption probes and high-profile resignations, is seen taking around 6 parliamentary seats - down from its current 12.
Netanyahu could still find a potent future ally in Economy Minister Naftali Bennett's Jewish Home party, which is predicted to win some 15 seats.
Reuters contributed to this report.