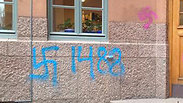 Anti-Semitic graffiti in Stockholm
Photo: Calle Nathanson's Twitter
After more anti-Semitic crimes were reported in Malmo than in any other city in Sweden, Swedish reporter Peter Lindgren decided to conduct a social experiment by putting on a kippa (yarmulke or skullcap) and a Star of David necklace and walking around the city to see how locals treated Jews.

With a hidden camera and microphone documenting his stroll through the streets of Malmo, Lindgren encountered harsh verbal and physical anti-Semitic abuse.

Hate Crime

'Disgusting Jews' spraypainted on Jewish school in Stockholm together with white supremacist insignia. 'Horrible and unacceptable,' writes Jewish community leader.

The footage, aired Wednesday on Sveriges Television as part of a 58-minute documentary titled "Jew-hatred in Malmo," shows Lindgren sitting at a cafe in central Malmo reading a newspaper as several passersby hurled abuse at him.

In another location, Lindgren was called "Jewish shit" and a "Jewish Satan" and one person even hit his hand - though that incident was not recorded, only recounted. One passerby told Lindgren to "get out," while another warned him to leave for his own safety.

In Rosengard, a neighborhood heavily populated by Muslims, Lindgren was surrounded by a dozen men who threatened him, while residents of nearby apartments threw eggs at him and shouted anti-Semitic slogans. Lindgren then decided to leave for fear of increased violence.

The documentary stated that many among the 600 Jews left in Malmo "are afraid to leave their homes; many want to leave the city and do not want their children to grow up there." Many of Malmo's Jews left for Stockholm or other cities because of the rising anti-Semitism, perpetrated mostly by members of the city's Muslim community.

In 2013, Patrick Riley, a journalist for The Local, conducted a similar social experiment in which he donned a kippa and walked through the streets of Malmo. He encountered stares of "disbelief and menace" and insults.

Writing about his experience, Riley said: "As an Irish person abroad I've never felt remotely threatened, but wearing the kippa for a few hours was enough to instill feelings of fear. Even when I didn't feel afraid I was made to feel different and unwelcome."

Malmo has a large immigrant Muslim community (some 20 percent of the city's 300,000 residents, according to statistics) and attacks on Jews have spiked in recent years.

Anti-Semitism in Malmo first drew international attention in 2009, when riots broke out due to the presence of Israeli professional tennis players in the city.

Sweden's government has come under criticism for failing to provide adequate protection to the country's small Jewish community and address the issue of anti-Semitism, even after an explosion rocked a building in a Jewish community in Malmo in 2012.

In 2010, a group of Jews were attacked during a peaceful demonstration in support of Israel and in August several hundred Jews and non-Jews marched in Stockholm in solidarity with Malmo's persecuted Jewish community.

Malmo's mayor, Ilmar Reepalu, said that a group of Jews who were attacked during the peaceful demonstration had brought the violence upon themselves for not distancing themselves from Israel and its actions during the month-long Gaza war in 2008-2009.

In September 2012, large swastikas were twice scrawled on several doors belonging to two separate Jewish homes in Malmo, according to a report in Sydsvenskan, a local daily. One of the homes was broken into, and a computer and Judaica were stolen. The homeowners reportedly called police four times during the weekend as the assailants continued to return.

This follows an attack on a synagogue in Malmo, a rabbi viciously attacked in the street and several assaults carried out against the Jewish community.

jn1.tv contributed to this report.