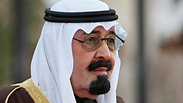 Late Saudi King Abdullah
Photo: Reuters
RIYADH - World leaders and top dignitaries were heading to Saudi Arabia on Saturday to give their condolences following the death of King Abdullah.
The king, who presided over Saudi Arabia for around two decades, died early Friday and was buried that same afternoon in the capital Riyadh. In line with Islamic tradition, there was no memorial service and instead leaders from around the world will begin visits to Saudi Arabia starting Saturday to pay their respects.
The newly enthroned King Salman is expected to receive US President Barack Obama, Egyptian President Abdel-Fattah al-Sisi, Japan's Crown Prince Naruhito, Spain's King Felipe, Jordan's King Abdullah, Dutch King Willem-Alexander and the United Kingdom's Prince Charles.
Russia's Prime Minister Dmitry Medvedev, Britain's Prime Minister David Cameron and French President Francois Hollande will also visit on Saturday and Sunday to offer condolences.
Related stories:
Obama has cut short his three-day trip to India to travel to Saudi Arabia to pay respects. The schedule change, announced shortly before Obama left for India, means the president will skip plans to see the Taj Mahal, and instead pay a call on an influential US ally in the volatile Mideast. Obama visited the ailing monarch in his desert compound last March.
Despite deep tensions and rivalries, Iran's IRNA news agency says Foreign Minister Mohammad Javad Zarif is also heading to the kingdom.
Muslim leaders paid their respects on Friday at Abdullah's funeral in Riyadh.
Some international human rights groups, meanwhile, have called on Western leaders to condemn Saudi Arabia's record of crushing dissent and depriving women and foreign workers of rights instead of praising its late king.
Salman takes charge in Saudi Arabia at a time of deep uncertainty in the kingdom, surrounded by a region in tumult and nervous about both Iranian influence and the spread of Islamist militants.
The kingdom's role in orchestrating Arab support for joint action with Western countries against the Islamic State group has won praise in Washington, while its role as biggest oil exporter is particularly important at this time of market instability.
Saudi jets have bombed IS targets in Syria, its top clerics have issued repeated denunciations of the militant group despite similarities between its ideology and Wahhabism, and the police have detained thousands of militant suspects in the past decade.
Salman pledged on Friday to maintain the kingdom's policies and kept most of Abdullah's cabinet, including the oil, finance and foreign affairs ministers, in place.
Western countries also value the kingdom as an important market for their defence industries and Salman quickly moved to appoint his son Prince Mohammed, 35, as his own successor as Defence Minister, responsible for big arms contracts.
Saudi Arabia observes no official period of mourning, in keeping with the ascetic traditions of its official Wahhabi school of Sunni Islam, but the royal court has announced that it will receive condolences and pledges of allegiance until Sunday.
Late on Friday state television showed princes, Wahhabi clerics, tribal chiefs, military leaders, major businessmen and other dignitaries crowding the royal palace to kiss King Salman's shoulder or hand.
The king's rapid appointments of half-brother Muqrin, 69, as Crown Prince and nephew Mohammed bin Nayef, 55, as Deputy Crown Prince, appeared to resolve for many years to come speculation that succession disputes might destabilise the ruling family.