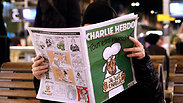 Charlie Hebdo's controversial issue
Photo: EPA
MK Masoud Ganaim (Ra`am-Ta`al-Mada) warned Prime Minister Benjamin Netanyahu on Saturday that he and Steimatzky will be responsible for the consequences of selling French satirical magazine Charlie Hebdo this week.

The French weekly's latest issue, published after Islamic extremists massacred 12 journalists at its Paris office, will be available at Steimatzky starting from Monday. In spite of the attack, which came after years of repeated threats, the 1,178th issue of the magazine provocatively featured the Prophet Mohammed on the cover.

Following the threats and warnings, the book seller backtracked on its decision to hold the launch event at its flagship store. "Steimatzky decisively supports in freedom of expression. The company has sold the magazine for years and will continue to do so. However, the firm has decided the sale of the specific issue will not occur at a special event in our store, but be held online starting Monday at 5 pm."

In a letter to the prime minister, Ganaim said, "Steimatzky intends to distribute images which hurt the Prophet Mohammed. This is a very serious, dangerous, and stupid step. This is not freedom of expression but a hard hit on the holiest of holies to Muslims, which will bring about unrest and anger among the Arabs and Muslims in the country… and no one can predict the results."

The Arab legislator urged the rightwing leader to stop the distribution of offending magazine. "I hereby appeal to your sense of honor; please personally intervene to prevent Steimatzky from distribution the magazine and the damaging images of the Prophet Mohammed, lest the Israeli government and Steimatzky be responsible for every consequence."

Steimatzky announced the sale ahead of time, saying it had received many requests for the issue. Several hundred copies of the magazine were ordered, to be sold at 35 shekels. The launch event for the issue will be held at the Ayalon mall in Ramat Gan.

A human rights organization had also appealed to Steimatzky and demanded they halt distribution of the magazine. One of the organization's lawyers said they plan to petition the court if the book seller does not respond to their request.

"We will ask for an injunction against the magazine's distribution. This is a serious act, and we must stop this step," he said.

The first edition published after the killings of the magazine's cartoonists and editors in Charlie Hebdo's Paris office was sold across the world; seven million copies were printed by the publisher. The print run of the issue was expected to continue for several weeks.