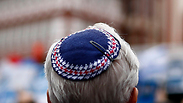 Illustration
Photo: Reuters
The cabinet will discuss Sunday a report pointing to a worrying rise in worldwide anti-Semitism in 2014, including a sharp increase in attacks against Jews.

According to the report, there was a 400 percent rise in anti-Semitic incidents during July and August 2014 - likely due to Operation Protective Edge - compared to the same time the previous year.

Ignored Warning

Eighty years ago, two Jewish journalists sent a Dutch photographer to document anti-Semitism in Third Reich and expose true face of Nazi party to the world, but international media didn't print photos.

The report, authored by the Public Diplomacy and Diaspora Affairs Ministry in cooperation with the Coordination Forum for Countering anti-Semitism, found France to be "the most dangerous country for Jews today," after "the levels of anti-Semitism and violence against Jews there have reached new heights."

France saw an increase of 100 percent in anti-Semitic incidents in 2014, with half of the recorded "racist incidents" targeting Jews, even though they constitute less than 1 percent of the population.

According to the report, some 1,000 different types of anti-Semitic incidents took place in 2014, including dozens of violent attacks. Dozens of Jews were beat up, or assaulted with cold weapons, while Molotov cocktails were thrown at synagogues and Jewish businesses.

The report's authors also pointed to a general trend of an increase in street harassment of Jews and in both verbal and physical violent incidents - phenomena that increased mostly in western Europe, near synagogues and Jewish schools.

"Islamic anti-Semitism is claiming its place as the leading (type of) anti-Semitism in the western world," the report cautioned. "Most of the reported incidents were perpetrated by Muslims, mostly in countries with large Muslim communities."

The World Zionist Organization (WZO) will present to the cabinet Sunday the findings of a poll conducted among Diaspora Jews ahead of the International Holocaust Remembrance Day that is marked on January 27.

Among the survey's findings: 70 percent of respondents in South America reported that they, or someone they know, were involved in an anti-Semitic incident; an absolute majority of respondents said they felt local authorities were not doing enough to fight anti-Semitism within their borders; and some 55 percent - particularly in European countries - said they did not feel safe in their country and that they were afraid to walk around in public wearing Jewish symbols or dress.

In the United States, respondents said, most of the anti-Semitic incidents were not reported, with victims claiming it was because people in general do not care about such things.

In some of the countries - like Germany and Canada - more than half of respondents said they might one day make aliyah and move to Israel.

"The magnitude and scope of anti-Semitism have crossed borders, and the next disaster might come from an unexpected direction," said the head of the Department of Activities in Israel and Countering anti-Semitism in WZO, Yaakov Hagoel.

"The Israeli government must promote the fight against anti-Semitism across the world and strengthen Jews in the Diaspora. We must not remain indifferent to the spreading phenomenon of the hatred of Jews for being Jews, and we must not allow past events repeat themselves," Hagoel added.