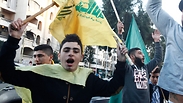 Hezbollah supporters celebrate attack
Photo: Reuters
Hezbollah sent a message to Israel via the UN peacekeepers' commander in Lebanon on Wednesday night, saying the organization was not interested in further escalation.

Israel and Hezbollah have been exchanging blows all day Wednesday. Shortly after midnight, IAF strikes hit targets in Syria. At 11:30am Wednesday, Hezbollah fighters ambushed an IDF convoy, firing an anti-tank missile at them. Two soldiers were killed and seven were lightly to moderately wounded.

The IDF returned fire with a heavy artillery barrage, following which mortars were fired at Mt. Hermon and IDF posts on Mt. Dov. At around 1:20pm, the IDF renewed its bombardment, with the IAF hitting a Hezbollah target in Lebanon.

The message conveyed through UNIFIL commander Maj.-Gen. Luciano Portolano also said that as far as Hezbollah was concerned, the ambush on the IDF convoy was "an eye for an eye" - revenge for a January 18 strike in Syria attributed to Israel in which 12 Hezbollah and Iranian fighters were killing, including an Iranian general and the son of Imad Mughniyah, Jihad.

The message further stated that Hezbollah launched its attacks from beyond the Blue Line - the internationally recognized border - to ensure Israel doesn't have international legitimization for a broad-scale retaliation.

Meanwhile, Prime Minister Benjamin Netanyahu held consultations with Defense Minister Moshe Ya'alon, IDF Chief of Staff Benny Gantz, Shin Bet head Yoram Cohen and other representatives of Israel's security forces.

"I want to send condolences to the families of the fallen soldiers and get well wishes to the wounded soldiers," Netanyahu said, vowing that "those behind the attack today will pay the full price."

"Iran has been trying for a while now - through Hezbollah - to open another terror front against us on the Golan Heights. We are acting decisively and responsibly against this attempt. The government of Lebanon and the Assad regime are also responsible to the consequences of the attacks coming out of their territories against the state of Israel," Netanyahu added.