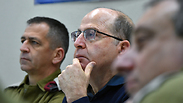 Defense Minister Moshe Ya'alon
Photo: Defense Ministry
Israel said on Thursday it received a message from Hezbollah that it was backing away from further violence, a day after the worst clashes in years erupted along the border.

The Israel-Lebanon frontier, where two IDF soldiers and a Spanish peacekeeper were killed in an exchange of fire between Hezbollah and Israel, appeared quiet early on Thursday.




Israeli Defense Minister Moshe Ya'alon said Israel had received a message from a UN peacekeeping force in Lebanon that Hezbollah was not interested in further escalation.

"Indeed, a message was received," he said. "There are lines of coordination between us and Lebanon via UNIFIL (the UN force) and such a message was indeed received from Lebanon."

In Beirut, Hezbollah officials could not immediately be reached for comment.

"I can't say whether the events are behind us," Ya'alon added in a separate radio interview. "Until the area completely calms down, the Israel Defense Forces will remain prepared and ready."

The Israeli soldiers were killed when Hezbollah fired five missiles at a convoy of Israeli military vehicles. The attack appeared to be in retaliation for a January 18 air strike in southern Syria – attributed to Israel – that killed several Hezbollah members and an Iranian general.

The peacekeeper in southern Lebanon was killed as Israel responded with air strikes and artillery fire, a UN spokesman and Spanish officials said.

Spain's ambassador to the United Nations is blaming Israel for the death."It was because of this escalation of violence, and it came from the Israeli side," Spanish Ambassador Roman Oyarzun Marchesi told reporters.

The UN peacekeeper has been identified as Cpl. Francisco Javier Soria Toledo, 36, and UN officials have said only that the cause of his death is under investigation. The Security Council condemned the peacekeeper's death in the strongest terms and offered its deepest sympathies.

Reuters and the Associated Press contributed to this report.