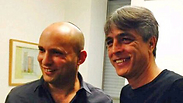 Ohana buckles under pressure and quits Bayit Yehudi.
A mere three days after Naftali Bennett announced Eli Ohana would be joining Bayit Yehudi and receiving a top spot on the party's Knesset list, the former Beitar Jerusalem soccer star announced he would not run in the elections after backlash emerged from within the party and party supporters on the internet.

"I approached the Chairman of Bayit Yehudi Naftali Bennett with a request not to include me in the Bayit Yehudi Knesset list. I did not expect the public storm that erupted following my entrance into political life, and I do not feel ready for it at this stage in my life," said Ohana.

"I was really happy when Naftali Bennett approached me, and I joined the party really wanting to contribute and help those who are weak in the community, but I saw since then, day after day, the repeated attacks against him and me, attacks that hurt me and my family despite my good intentions – and I have no desire for Minister Bennett and especially my family to get hurt because of me," Ohana said in a statement released on Thursday.

Ohana, a former Peace Now activist who later became a Likud supporter, was due to be given the 8th spot on the Bayit Yehudi list, despite not having any prior political experience.

Objections to Ohana joining the list came both from within and without. MK Ayelet Shaked said Ohana was only offered a spot on the list because "Bennett wanted someone from a traditional Sephardic home who had a rough childhood and succeeded." Shaked also said that despite never meeting Ohana she was told he was "intelligent."

Her comments led others candidates on the party list to object to Ohana being reserved the 8th spot.

Several members within Bayit Yehudi publically shared their dissatisfaction at Bennett's choice to add Ohana to the party's list. Before shifting political views in support of the right, Ohana had publicly supported the 2005 disengagement of Gaza, in stark contrast to the views of the Bayit Yehudi party which promotes itself as a party that cares for the needs of Israelis living in the settlements.

MK Zvulun Kalfa quit the party after the announcement that Ohana would receive the 8th slot on the party's Knesset list, but changed his mind on Thursday morning following the news that Ohana had decided not to run. "I'm glad that in the end, common sense prevailed," Kalfa said.

"Uri Ariel called me this morning to keep me updated on developments and asked me to change my decision to retire and I told him that this is what I would do. We will join hands and work together so that the Bayit Yehudi (Jewish Home) will be a big and strong house," Kalfa added.

Reacting to Ohana's decision not to wrote, Bennett took to Facebook: "Eli, I love you. You taught me an important lesson that I never learned from anyone else.

"The attacks that came from everywhere (from the media and the public) was too much, even for a brave man and a fighter like Eli. In recent days, Ohana prepared for his service as a member of Knesset, told me that he learned the work of the committees, studied economic topics, arranged to meet with activists and began working," said Bennet.

Bennett did not expect such a strong opposition to Ohana's appointment. On Tuesday, senior members of Bayit Yehudi held a special meeting in Jerusalem, and Rabbi Eli Sadan, the head of the Bnei David pre-army preparatory Yeshiva, said he was especially angered by Bennett's decision.

After the special meeting, Bayit Yehudi members Shaked and Eli Ben-Dahan met with Rabbi Sadan and his associates. Those involved in the meeting, which was described as having a "respectable atmosphere with a deep and real debate," said that they would not repeat what was said during the meeting; however, sources close to the Rabbi said that Bennett was harshly criticized. "Whoever puts his head in the wall, pays the price," said the source.

Ohana, who left his positions as a sports commentator and youth soccer coach to join the party, got the hint from the other Bayit Yehudi members and decided not to run. His decision helped ease tensions – at one point Rabbi Sadan threatened that he would tell his students not to vote for Bayit Yehudi.