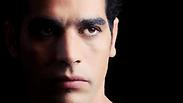 Aviv Geffen. 'Alan is one of the figures which has influenced me the most'
Photo: Chiko
Israeli rock musician Aviv Geffen is about to record an English-language album together with veteran British producer Alan Parsons.

Parsons, 66, worked at the age of 19 as an assistant engineer at Abbey Road Studios during the recording of The Beatles' LP "Abbey Road." Three years later, he became involved in the production of Pink Floyd's masterpiece album "The Dark Side of the Moon," and was credited by the band as an important contributor. He later started his own progressive rock group, "The Alan Parsons Project."

Interview

Ahead of Israel concert next month, British musician talks about Israeli audiences, working with the Beatles and Pink Floyd, why he doesn't mind playing the hits, and how music is less real now.

Parsons and his band will perform at Tel Aviv's Menora Mivtachim Arena on February 10 with hits such as "Eye in the Sky," "Old and Wise" and "Don't Answer Me." Geffen is expected to make a guest appearance during the show as part of the new collaboration.

After the concert, the two musicians are expected to start working on the joint album in Israel, and later abroad.

"I am very excited about returning to Israel for the second time for a major conference at the sports arena," said Parsons. "The Israeli audience is warm and loyal and appreciates good music. I am also happy and excited about cooperating with Aviv Geffen in the production of his new album. Aviv is one of the most talented artists I have met. It makes me very proud to host him and stand with him on the same stage."

"Alan and I met in Berlin a year ago," said Geffen. "Later in the year, we decided to go into the studio and work together. He is unquestionably one of the figures which has influenced me the most, starting from his work with The Beatles, through Pink Floyd to his solo albums."