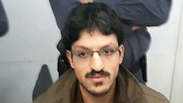 Arab Israel says he regrets joining Nusra Front.
Amin Ahmed Saleh Tznobar, an Israeli-Arab who joined the al-Qaeda affiliated Nusra Front in Syria, was put in a cave for five days by members of the terror group after he made a mistake, according to an indictment filed against him on Thursday.

Tznobar, 24, from Kafr Yasif in northern Israel, then changed his mind about staying with the terror group and returned to Israel after half a year, where he was arrested upon his arrival at Ben Gurion Airport and transferred to the Shin Bet for investigation.

Tznobar was arrested in early January in a joint operation conducted by the Shin Bet and the Coastal District's Central Investigative Unit.

He was charged with membership and activity in an unlawful association, conspiracy to commit a crime, illegal exit of Israel and obstruction of justice.

During his investigation, Tznobar claimed that he stayed at the organization's headquarters for a period of time and took part in military training that combined theoretical and practical lessons. As part of his training by the Nusra Front, Tznobar learned how to use a weapon, prepare explosives and underwent physical fitness training.

According to Israeli security services, Tznobar admitted to helping the Syrian terror organization carry out various operations.

One of Tznobar's acquaintances in Israel said he was happy that Tznobar had returned to Israel. "He made a mistake when he traveled to Syria, he did not need to do such a thing. We are happy that he regretted it and came back to Israel healthy and in one piece. Syria is a dangerous place and whoever enters it can lose his life. I do not know who stands behind the brainwashing of the youth and convinces them to join Daesh (Arab name for the Islamic State group). All those who support these types of organizations must be stopped," said Tznobar's acquaintance.

The Nusra Front was recently declared a terrorist group by Israel and labeled an unlawful association – its operations against the law. The Nusra Front, associated with al-Qaeda, began operating in Syria in June 2013 and part of its mission is to carry out attacks against Israel.

There have been several cases in the past year in which Israeli citizens joined the ranks of the Islamic State group operating in Syria and Iraq. Some of them were killed during fighting, and several others' fate remains unknown.

The Israeli security service has said that Israelis-Arabs joining the ranks of the Islamic State has become a serious and dangerous phenomenon as the group is hostile to Israel and emphasizes global jihad.

"Those same Israelis that go to (Syria) undergo military training and are exposed to radical ideology, and there is a concern that they will be taken advantage of by terror elements in the country to carry out military operations against Israel and as a source to obtain information on Israeli targets," a Shin Bet message read.