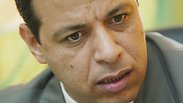 Mohammad Dahlan
Photo: Shaul Golan
Exiled Palestinian strongman Mohammad Dahlan, a rival of President Mahmoud Abbas, has been granted Serbian citizenship, the Balkan Investigative Reporting Network (BIRN) reported Friday.

"Dahlan, his wife and four children, a nephew and five key political supporters were all granted citizenship between February 2013 and June 2014," BIRN said.

The news portal provided a link to a page from the government gazette of December 11, 2013, in which the decision to grant Dahlan citizenship was published.

The decision, which was signed by then prime minister Ivica Dacic, went unnoticed until reported by BIRN.

"Dahlan is credited with facilitating Abu Dhabi's promised investment of billions of euros in Serbia," BIRN said, referring to pledges of financing from the United Arab Emirates, including a multi-billion-euro plan to redevelop Belgrade's waterfront.

Dahlan lives in the United Arab Emirates.

The government in Belgrade refused to confirm a link between the passports given to 12 Palestinians, all linked to Dahlan, and the Gulf country's planned investments, the report said. Contacted by AFP, a Serbian government spokesman declined comment.

Dahlan once acted as pointman for Abbas in the Gaza Strip, where he ran the security forces but he fell from grace in 2007 after the Islamist group Hamas drove Fatah from Gaza following days of fierce street battles.

In June 2011, he was expelled from Fatah's ruling body and also lost his parliamentary immunity following allegations of corruption and murder. In May was sentenced in absentia to two years in jail for defamation.

A trial against him on charges of corruption opened in December in the West Bank.