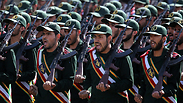 Military parade in Iran
Photo: EPA
Commander of Iran's Revolutionary Guards, Mohammed Ali Jafari, threatened Saturday that if Israel "wants to hit at the heart of Hezbollah, it should expect a powerful reaction, not just within its borders, but in any place in the world."

He praised Hezbollah's attack on Mount Dov and said it could be seen as as a reaction by Iran.

Jafari spoke at a ceremony held for those killed in a January 18 strike on Quneitra in Syria. Several Hezbollah members and an Iranian general died in the attack, which has been attributed to Israel, although there has been no official confirmation.

Two IDF soldiers were killed and seven wounded in a Hezbollah attack in Israel's north on Wednesday, which the group claimed was revenge for the Quneitra attack.

Jafari's statements followed a speech given Friday by Hezbollah's secretary general, Hassan Nasrallah, in which he boasted that his organization was not afraid of war with Israel.

"Our biggest victory is that Israel feared Hezbollah's response," he said in a televised address Friday. We will not think twice about confronting the enemy and we will do so if he forces us. We don't want war but we don't fear it."

Nasrallah added that the Quneitra strike showed the "fusion of Lebanese-Iranian blood on Syrian territory, and reflects the unity of the cause and the unity of the fate of these countries," underscoring Iran's support for the terrorist group's activities in Syria.

Also on Friday, the Tehran Times said the the Lebanese-based TV channel Al Mayadeen had reported that Qassem Soleimani, commander of Iran's elite Quds Force, had met with Nasrallah and other Hezbollah leaders.

The newspaper did not specify the nature of the meeting, mentioning only that Soleimani also met with the family of Jihad Mughniyeh, a senior operative killed in Quneitra.