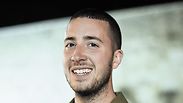 Jesse Rabin: 'I felt like I had blue and white blood flowing through my body'
Photo: IDF Spokesman
Jesse Rabin, 23, left his parents, friends and comfortable life in Canada last year to immigrate alone to Israel and serve in the Israel Defense Forces, with the dream of becoming a fighter pilot.
It all started two years ago, when Rabin, an only child, arrived in Israel for a visit. "I play ice hockey and I came to Israel with other hockey players," he recalls in broken Hebrew, with a few English words thrown in.
Following in His Footsteps
After tens of thousands of people accompanied her older brother Max on his last journey, Paige Steinberg realized that Israel was her true home.
"We played at the Canada Center in Metula and afterwards we toured the country. After returning to Canada, the experience remained in my mind. Following a number of conversations with people who said I should immigrate to Israel, I felt like I had blue and white blood flowing through my body and that I want to live in Israel and serve in the army."
Rabin made the move last June; and after undergoing the entire induction process, he is now serving as a combat soldier in the Kfir Brigade. Nazareth Illit is his current home, where he lives with his girlfriend, also a new immigrant, from California, and also in the army.
The decision to leave his life of ease in Canada, immigrate to Israel and enlist was not an easy one.
"Life in Canada is different," he says. "My mother wasn't happy at all about my decision to make aliyah because I'm an only child and I had a good life there. My father was the one who wanted me to do whatever was going to make me happy, and he's been behind me all the way. My friends in Canada think I'm crazy. They can't understand how I came to such a decision from just a single visit to Israel, and why I didn't enlist into the US Army.
"The Israelis are a bit crazy, and Canada is a different world, but everyone here is like one big family. That's what I like about Israel. I miss my parents very much; it's the hardest thing for me because as an only child I was I was always with them. I miss my mom's hugs."
Rabin has a civil aviation license and 273 flight hours under his belt from Canada. "I want to be a fighter pilot in the IDF; that's my dream," he says with a smile.
In any event, he adds, he's planning a future in the air – preferably in Israel; and if not, then Canada.