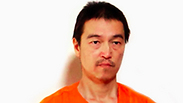 The Islamic State group executed Japanese hostage Kenji Goto Jogo, according to a new video distributed on Twitter late Saturday evening. According to SITE intelligence group, the minute-long video shows "Jihadi John" threaten Japanese President Abe with further violence.
"Let the nightmare for Japan begin," warned the radical Islamist group's executioner.
The British-accented jihadi told the Japanese government: "You, like your foolish allies in the Satanic coalition, have yet to understand that we, by Allah's grace, are an Islamic Caliphate with authority and power - an entire army thirsty for your blood."
He added: "Abe, because of your reckless decision to take part in an unwinnable war, this knife will not only slaughter Kenji, but will also carry on and cause carnage wherever your people are found. So let the nightmare for Japan begin."
Japanese Prime Minister Shinzo Abe expressed outrage at the video that was released on militant websites
"I feel indignation over this immoral and heinous act of terrorism," Abe told reporters after convening an emergency Cabinet meeting.
"When I think of the grief of his family, I am left without words," he said. "The government has been doing its utmost in responding to win his release, and we are filled with deep regrets."
He vowed that Japan will not give in to terrorism and will continue to provide humanitarian aid to countries fighting the Islamic State extremists.
There was no mention in the one-minute video of another Islamic State captive, Jordanian pilot Muath al-Kasaesbeh who was seized after his jet crashed in northeast Syria in December during a bombing mission against Islamic State.
Video of purported Islamic State execution
The Japanese government is trying to authenticate the video, public broadcaster NHK said on Sunday. "I cannot help feeling strong indignation that an inhuman and despicable act of terrorism like this has been committed again," Chief Cabinet Secretary Yoshihide Suga said, adding the video appeared to show Goto. "We resolutely condemn this."
The government of Prime Minister Shinzo Abe had put high priority on seeking the release of Goto, a veteran war correspondent captured by the militants in late October when he went to Syria seeking the release of another Japanese captive, Haruna Yukawa.
White House said on Saturday that it was also working to authenticate the video, adding Washington "strongly condemns" the militant group's actions.
"We have seen the video purporting to show that Japanese citizen Kenji Goto has been murdered by the terrorist group ISIL," White House National Security Council spokeswoman Bernadette Meehan said in a statement, using an acronym for the group.
"We are working to confirm its authenticity. The United States strongly condemns ISIL's actions and we call for the immediate release of all remaining hostages. We stand in solidarity with our ally Japan," Meehan added.
Previous videos purporting to show Goto had said he would be released if Jordan freed Iraqi would-be suicide bomber Sajida al-Rishawi. Amman said it was willing to free her if it could get assurances of the safety of a Jordanian pilot also held by Islamic State.
Reuters contributed to this report.