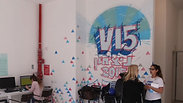 V15 offices in Tel Aviv
Photo: Motti Kimchi
The Likud party accused the Zionist Camp and Meretz on Sunday of breaking election fundraising and propaganda laws by receiving donations raised by NGOs funded by foreign donors.

In a petition filed by the Likud party to the Central Elections Committee, the party alleges that the organizations Molad (the center for the renewal of Israeli democracy), OneVoice (organization supporting the two-state solution), Project 61 (which deals with election polls) and V15 (Victory 2015, an organization seeking to replace the government) are funding the left-wing's elections campaign.

The petition claims that these organizations are conducting indirect elections propaganda, linked to the Labor party and Meretz, not in accordance with elections campaign laws.

The Likud is therefore demanding an injunction against V15 and Project 61, forbidding them from continuing their campaigns.

"We want to know who's behind (these NGOs) and who's funding them," Likud MK Tzipi Hotovely said.

"Those behind V15 are organizations with direct ties to the Zionist Camp and the Labor party," the petition alleges.

The petition further stated that V15 "is making criminal use of foreign, high-level and unknown funding sources."

Prime Minister Benjamin Netanyahu's attorney, David Shimron, said V15 is funded by American billionaire S. Daniel Abraham and Mexican social entrepreneur Daniel Lubetzky - both of whom are not Israeli citizens - which is against election funding and propaganda laws.

Attorney Shimron also drew a line between Yoel Hasson and Danny Atar, who the Likud claims were board members of OneVoice, and the Zionist Camp on whose list the two are running. Former Labor MKs Efraim Sneh, Colette Avital and former Meimad minister Michael Melchior (whose party formed an alliance with Labor in the 1999 elections) all allegedly have ties to the NGOs, Shimron said.

OneVoice, however, categorically denied to the Israeli media on Sunday that either Hasson or Atar had ever been board members in the organization.

"Part of this election propaganda is done using Molad and OneVoice under the auspices of (political strategist) Eyal Arad. This is completely elections propaganda. There is evidence that shows a direct link between these organizations to the Zionist Camp, for example the Zionist Camp's Facebook page shares links from V15."

"This is a criminal action meant to buy votes with money. These are extreme organizations - V15 and OneVoice, who are contributing to the left-wing's campaign," Shimron said.

"They also have ties with the New Israel Fund, which constitutes a violation of the elections funding laws, as well as a criminal offense," Shimron added.

At a press conference in Tel Aviv, Likud MK Ofir Akunis called this "a blatant and illegal interference of elements that want to replace the government, using the NGOs system that funds propaganda for Tzipi (Livni) and Buji's (Isaac Herzog) left-wing campaign. We call on Herzog to provide real answers."

"How can Buji not know that once again those funding his party are corporations?" MK Miri Regev asked in the press conference.

V15 said in response: "The Netanyahu couple and the Likud have accumulated so many recycled bottles that they're convinced they can pull imaginary genies out of them. The V15 activists will continue taking over junctions and streets, while (the Likud) will continue recycle and imagine."