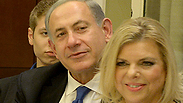 Report detailing operation of Prime Minister's Residence to be released before elections.
Photo: Avi Ohayon, GPO
A report into allegedly profligate expenditure at Prime Minister Benjamin Netanyahu's official and private residences will be published within the next two weeks, State Comptroller Yosef Shapira announced Monday.

There has been much speculation as to whether the report would be released before the March 17 elections. It will shed light on what has occurred behind the walls of the Prime Minister's Residence on Balfour Street in Jerusalem and Netanyahu's private home in Caesarea.

On Monday, Ynet's sister publication Yedioth Ahronoth revealed that the prime minister and his lawyer had been summoned to a hearing by State Comptroller Shapira last month, as part of the process ahead of publishing the report.

Shapira's report will not deal with the recent "bottle scandal" involving Sara Netanyahu, nor will it deal with claims that the Netanyahu family moved new furniture purchased for the prime minister's official residence into their own home in Caesarea, and moved old furniture into the Prime Minister's Residence.

The report will instead deal with the management and expenditure at the Prime Minister's Residence. It is set to include two sections.

The first section relates to the expenditure of the Netanyahu family in recent years, including criticism of its management and the use of state-employed staff for private purposes.

The second section examines expenditure at the Prime Minister's Residence, on items such as food, furniture, clothing, accommodation, and staff, and includes recommendations on how to separate public and private needs.

Netanyahu's lawyer David Shimron called Sunday for a comprehensive investigation of all heads of state in recent years – including prime ministers and presidents.

"We are not against an investigation, but he (Shapira) should investigate everyone," said Shimron.

Meanwhile, Attorney General Yehuda Weinstein is still deciding whether to recommend a preliminary police investigation into the "bottle scandal" revolving around Sara Netanyahu.

Yedioth Ahronoth also revealed that the State Comptroller's Office had sent a letter to Attorney General Weinstein 10 months ago, on June 10, 2014, with a report that included testimony by the prime caretaker of the Prime Minister's Residence, Meni Naftali.

The report stated that Naftali had given testimony related to three major issues: cash refunds taken from bottle recycling; the exchange of garden furniture between the Prime Minister's Residence and the Netanyahu's private home; and the use of state workers for private matters.

Shapira wrote in the letter to Weinstein that he was passing the issue on to the attorney general as Sara Netanyahu is not an "audited body" and thus did not fall under the remit of the state comptroller.

Despite receiving the letter from 10 months ago, Weinstein never dealt with the issue. According to the attorney general, he never received any appeal, clarification or evidence surrounding the incident and therefore did not continue forward with the investigation.