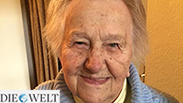 German prosecutors are investigating a 93-year-old woman on suspicion she served as a Nazi SS guard during World War II and that she was involved in forcing prisoners on a march during which about 1,400 women died.

Hamburg prosecutors' spokesman Carsten Rinio said Monday his office had begun the investigation of Hilde Michnia last week after a private individual had filed a complaint against her.

She is suspected of serving as a guard in the Bergen-Belsen and Gross-Rosen concentration camps, and having been part of evacuating the latter camp near the end of the war and forcing prisoners to march to the Guben labor camp farther west.

Michnia told Die Welt newspaper she hadn't been involved in any atrocities and only worked in the kitchens.

However, the testimony of a Holocaust survivor from Ireland may prove otherwise. Tomi Reichental, went on a two-year search for Michnia, also known by the name Hilde Lisiewicz. His journey was recorded in the documentary "Close to Evil", which was broadcast on television last year.

Reichental, who was born in Slovakia, was nine years old when he was imprisoned in the Bergen-Belsen concentration camp, where Michnia worked as a guard. He moved to Ireland after the war and settled in Dublin. Now a pensioner, he gives lectures to children and adults about his experiences in the camps.

After giving an interview to local radio station RTE, Reichental was contacted by a woman who said her elderly neighbor was an SS guard at Bergen-Belsen. Reichental decided to travel to Hamburg to find her.

Michnia was previously convicted in a 1945 trial involving scores of SS guards. She was sentenced to a year in prison, and released in November 1946.

The director of "Close to Evil", Gerry Gregg, told the Irish Herald newspaper that "young Hilde was proud to wear the SS uniform. She followed orders, held Tomi and thousands of others imprisoned in Bergen-Belsen and brutally 'guarded' the starving prisoners.

"We learned a lot about Hilde on our journey. We learned that she was tried in September 1945. The British military court heard testimony from prisoners who claimed they saw Hilde regularly attacking prisoners, and in one instance even beat to death two men who stole food."

Despite Michnia's crimes, Reichental wanted to meet her. "But Hilde didn't arrive at the meeting we planned in Hamburg. Tomi was told she was too ill. But we discovered it wasn't true. This is a woman who denies her past and her crimes to her neighbors and apparently also to her family."

In February 2013, Reichental was invited to Berlin and received Germany's Order of Merit.

The Associated Press contributed to this report.