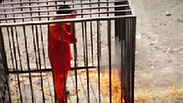 Image of buring published by Islamic State
ISIS released a video Tuesday purportedly showing the burning alive of a Jordanian pilot it had captured in December. The Jordanian government confirmed on Tuesday that Islamic State militants had killed a captive Jordanian pilot and said this had happened on Jan. 3, state television reported.
The Jordanian army said on Tuesday it would avenge the death of a Jordanian pilot killed by Islamic State militants, and might execute in the next few hours 5 terror convicts, including Iraqi failed suicide bomber Sajida al-Rishawi.
Supporters of the Islamic State group circulated photos on social media on Tuesday purporting to show captive Jordanian pilot Muath al-Kasaesbeh being burnt alive.
The head of the Jordanian armed forces told the family of a Jordanian pilot held captive by Islamic State insurgents that he had been killed, a relative told Reuters.
Reuters could not immediately confirm the five images, which showed a burning man standing in a black cage. Kasaesbeh has been in Islamic State captivity since his plane crashed over Syria in December. The video released online showed images of a man purported to be Moaz al-Kassasbeh engulfed in flames inside a metal cage.
"The revenge will be as big as the calamity that has hit Jordan," army spokesman Colonel Mamdouh al Ameri said in a televised statement, confirming the death of Mouath al-Kasaesbeh, who was captured by the insurgents in December when his plane crashed over Syria.
US President Barack Obama said on Tuesday a video purporting to show Islamic State burning a Jordanian pilot hostage alive, if authenticated, would be another sign of the "viciousness and barbarity" of the militant group.
"Whatever ideology they're operating off of, it's bankrupt," Obama told reporters, noting the video would redouble the determination of the US-led coalition fighting the group in Syria and Iraq.
Jordan vowed Sunday to do all it could to save the airman after the terror group killed a Japanese journalist they had been holding as it attempted to confirm the pilot was still alive after an earlier deadline had passed without word from the radical group.
The kingdom "will do everything it can to save the life and secure the release of its pilot," Maaz al-Kassasbeh, who was captured by the jihadis after his plane crashed in Syria in December, government spokesman Mohammad al-Momeni told the official Petra news agency.
ISIS has been demanding the release of a convicted Iraqi jihadi on death row in Jordan in exchange for Kassasbeh's life, a demand the government has expressed readiness to accept provided it is given proof he is still alive.
"All state organizations have been mobilized to secure the proof of life that we require so that he can be freed and returned to his home," Momeni said.
He condemned the jihadis' murder of Japanese journalist Kenji Goto after days of intensive efforts through intermediaries to save him.
"We spared no effort, in coordination with the Japanese government, to save his life," Momeni said.
Jordan further said it was still ready to hand over a jailed Iraqi militant to Islamic State in a swap deal if the pilot was released even after the killing of the second Japanese hostage ."We are still ready to hand over the convict Sajida al-Rishawi in return for the return of our son and our hero," Momani further said.
Goto was the second Japanese hostage in a week to be executed by the jihadis in what they have said is punishment for Tokyo's pledge of $200 million (175 million euro) in aid to countries affected by its bloody seizure of swathes of Iraq and Syria last year.
Last week, ISIS claimed responsibility for the beheading of Haruna Yukawa after the expiration of a 72-hour ultimatum.
ISIS has demanded the release of Sajida al-Rishawi, who was sentenced to death for her role in the 2005 bombings of three Amman hotels by Al-Qaeda in Iraq which killed 60 people.
Her husband was one of the three suicide bombers and the court found that she had would have been a fourth but for the failure of her detonator.
AP and Reuters contributed to this report.