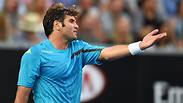 Malek Jaziri
Photo: Gettyimages
A Tunisian player retired from a match after winning the first set in a French tournament Wednesday, citing an injury that keeps him from facing an Israeli in the next round.

Malek Jaziri quit after winning the first set 6-3 against sixth-seeded Denis Istomin of Uzbekistan in the first round of the Open Sud de France.

Tournament organizers said in an email to The Associated Press that Jaziri, who called for a trainer twice during the match, "suffered again from an elbow injury he picked up" at the Australian Open.

Had Jaziri beaten Istomin, he would have played Israel's Dudi Sela in the next round. In 2013, Tunisia's tennis federation ordered Jaziri to withdraw from a match against Israeli opponent Amir Weintraub at a second-tier tournament in Uzbekistan. Jaziri had been scheduled to play Israel's Amir Weintraub in the quarterfinals of the ATP Challenger tournament in Tashkent. He withdrew before the match.

The ITF subsequently banned Tunisia from the 2014 Davis Cup, saying that the Tunisian federation was guilty of "interfering with international sporting practice."

The ATP confirmed that Jaziri's latest retirement was due to an elbow injury, "as verified by the ATP physiotherapist on-site," but started to investigate the case.

"Given a previous incident involving the player's national federation in 2013, we are looking into any wider circumstances of his withdrawal as a matter of prudence," the ATP said in a statement to the AP.

The 65th-ranked Jaziri, who lost in the third round at the Australian Open, also withdrew from the doubles, where he would have faced an Israeli opponent. He and Spanish partner Marc Lopez had been set to play Jonathan Erlich of Israel and Cermak Frantisek of Czech Republic in the quarterfinals.

The Tunisian tennis federation did not reply to emails and phone calls seeking comment.

Arab countries have for decades observed, to varying degrees, boycotts against Israeli athletes in protest over the situation of the Palestinians.