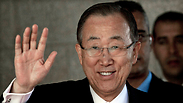 UN Secretary General Ban Ki-moon
Photo: AP
UN Secretary-General Ban Ki-moon has appointed Nickolay Mladenov of Bulgaria to replace Robert Serry as his special coordinator for the Middle East peace process, a UN spokesman said on Thursday.

Mladenov, currently the UN special representative to Iraq, has been Bulgaria's foreign minister and minister of defense and has worked at the World Bank, UN spokesman Farhan Haq told reporters.

It was not immediately clear who would replace Mladenov as the UN envoy to Iraq, UN officials and diplomats say.

Longtime Dutch diplomat Serry has held the top UN post for Israel and the Palestinian territories for more than eight years.

Mladenov comes to the job as US-brokered peace talks have collapsed and amid increased tensions between the Israelis and Palestinians.

Last month, Ban said he is alarmed that Israelis and Palestinians appear to be engaged in a downward spiral of actions and counter actions and called on both sides not to make divisions worse.

Israel was withholding critical Palestinian tax revenue in retaliation for their moves to join the International Criminal Court (ICC) after a failed bid by the Palestinian Authority to secure statehood via a UN Security Council resolution. Israel and the United States both condemned the ICC move.

Palestinians seek a state in Gaza, the West Bank and East Jerusalem - lands controlled by Israel since 1967.

Momentum has built since President Mahmoud Abbas succeeded in a bid for de facto recognition of Palestinian statehood at the UN General Assembly in 2012, making Palestinians eligible for the ICC.

Serry has been Ban's envoy since November 2007. In June 2014, Foreign Minister Avigdor Lieberman threatened to revoke the envoy's diplomatic visa following a report that Serry had offered to bring funds to the terrorist organization Hamas from Qatar. Serry denied the charge, saying he had told the Palestinian Authority "the UN would be able to help only if all sides agreed including Israel".