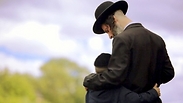 Ori Gruder aims to tackle topic of sex in ultra-Orthodox community in new film
Photo: Associated Press
Like so many parents, Ori Gruder was grappling with how to talk to his 10-year-old son about sex. Being a member of Israel's ultra-Orthodox religious community, which tends to keep discussions of sexuality to a whisper, made the task even more difficult.

So Gruder created "Sacred Sperm," an hour-long documentary in which he tries to tackle the hard questions he can expect from his son. The film presents an intimate, informative and at times awkward look at the insular religious community and its approach to sexuality, fleshing out deeply entrenched taboos in the conservative society.

Opening Up

Rabbinical organization hosts 150 women in one of first public forums on issues of intimacy within Religious Zionist community. 'Sessions like these are critical for preserving the holiness and sanctity of our families and children,' says religious institute director.

"What is it about that little sperm that looks like a tadpole and has everyone so hot and bothered?" Gruder ponders in his narration of the film.

Gruder, a 44-year-old father of six who once worked for MTV Europe and didn't become religious until age 30, gives the viewer a rare peek into private ultra-Orthodox lives, taking the camera into his own home, into ritual baths and circumcision ceremonies, to the religious school system and more.

The film already has been shown in Jerusalem, London and California and is touring the US festival circuit, including Atlanta on February 15.

It begins with a visit to a rabbi, who grants Gruder his blessing to create the movie but implores him to do so "modestly." Gruder's wife expresses reservations about the project because it could elicit unwanted attention from the community.

"Maybe that's why I should do it, because people don't talk about it," Gruder responds.

Under Orthodox Judaism, masturbation is forbidden, seen as a violation of an age-old covenant with God that promotes and encourages procreation. Sex is viewed as a sacred act and intercourse is permissible only after marriage.

"One who spills his seed literally kills his sons," Prosper Malka, one rabbi interviewed in the film, tells Gruder.

Gruder explains the theological reasoning behind the Jewish ban on spilling sperm: "The reproductive organ is called the 'covenant.' Spilling one's seed is called 'damaging the covenant.' And abstaining from masturbation is called 'guarding the covenant.'"

While other world religions such as Roman Catholicism take a similarly dim view of masturbation and premarital sex, the film makes clear how much more ultra-rigorous the ultra-Orthodox Jews are. They live strictly regulated lives according to Jewish law that governs everything from diet to dress. Procreation is seen as a "mitzvah," or commandment from God. For this reason, large families are common in Orthodox communities.

But talking freely and openly about sex is taboo. Most Orthodox Jews do not touch members of the opposite sex except their spouses, and the sexes are usually separated in school and prayer. Sex education is largely not taught in schools, although young brides and grooms are given counseling before they wed.

Gruder brings viewers into an education session for a soon-to-be-married young man, in which the perplexed bridegroom is told that "all positions are permitted, but our sages tend to say that the best way is for the husband to be on top of the wife."

The film details the precautions that many ultra-Orthodox men take to prevent themselves from becoming aroused. It's not merely a matter of averting their eyes from women.

One rabbi, longtime friend Yisrael Aharon Itzkovitz, holds up his baggy white underpants - and explains he buys them a few sizes too big, because snug-fitting undies might stimulate the wearer by accident. Many ultra-Orthodox men do not touch themselves when they urinate, Itzkovitz explains, even if that means they misfire.

Gruder describes his own journey from secular to Orthodox Jew, recounting the guilt he felt knowing that he previously had sinned. To repent, he said he has taken seemingly countless ritual baths, fasted, given to charity and rolled around naked in snow at a ski resort in northern Israel. He said that was a purifying experience.

Judaism expert Menachem Friedman said the movie, which was shot in Israel and Ukraine, offered a unique "anthropological window" into the ultra-Orthodox world. "It is about a very intimate subject which nobody talks about," he said.

Gruder expressed hope that the film would help ultra-Orthodox Jews to become better understood by outsiders.

"It's a first look into a keyhole that needs to be opened more," he said.