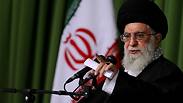 Ayatollah Khamenei
Photo: AFP
Iranian Supreme Leader Ayatollah Ali Khamenei said Sunday that he would go along with any nuclear deal with the six major world powers if it did not go against the interests of his nation.

"I would go along with the agreement in the making," Khamenei said in a speech to air force personnel, as quoted by the official news agency IRNA, alluding to ongoing negotiations to reach a pact that would curb Iran's disputed nuclear work in return for a phased lifting of sanctions imposed on Tehran.

Related articles:

"Our (nuclear) negotiators are trying to take the weapon of sanctions away from the enemy. If they can, so much the better. If they fail, everyone should know there are many ways at our disposal to dull this weapon," he said.

Iran's foreign minister has warned the United States that failure to agree a nuclear deal would likely herald the political demise of pragmatist President Hassan Rouhani, Iranian officials said.

Mohammad Zarif pressed the concern with US Secretary of State John Kerry at several meetings in recent weeks, according to three senior Iranian officials, who said Iran had also raised the issue with other Western powers.

Meanwhile, the US Senate Banking Committee voted at the end of January to advance a bill that would toughen sanctions on Iran if international negotiators fail to reach an agreement on Tehran's nuclear program by the end of June.

However, the bill is not expected to come up for a vote in the full Senate until at least March 24. Ten Democrats, including the measure's co-author, Senator Robert Menendez, announced an agreement earlier this week to hold off for two months to allow time to reach a diplomatic solution.

Republicans would need those votes to pass the bill, and even more votes to override a veto threatened by Democratic President Barack Obama, who has called the measure a threat to the continuing nuclear talks with Iran.