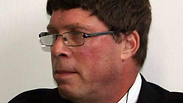 Shahar Ben Meir: Israel Hayom has created its own scale of propaganda platform
Photo: Archive
An Israeli lawyer on Sunday petitioned the Central Elections Committee to end what he termed as pro-Benjamin Netanyahu "election propaganda" by newspaper Israel Hayom (Israel Today).

"Israel Hayom should be ordered to refrain from publishing its years-long prohibited election propaganda in favor of Benjamin Netanyahu," wrote Shahar Ben Meir in his petition, filed Sunday with the CEC chairman, Supreme Court Justice Salim Joubran.

Ben Meir termed Israel Today a "propaganda platform in favor of the candidate, masquerading as a newspaper." In his petition, he argues that: "The phenomenon described here, of a financier (who is not a citizen or resident of Israel) who establishes a daily newspaper for a candidate in the elections - distributed for free and that takes a significant proportion of the daily newspaper market (both due to its zero cost and its unlimited availability) - and 'donates' to it tens of millions of dollars, is a substantial, tangible and immediate danger to a democracy based on the principle of equality."

The petitioner further writes that it creates "a regime in which wealthy owners have the right to publish propaganda at will."

Ben Meir, who declares that he is not a member of any political party, cites in the petition Netanyahu, his Likud party, Israel Today, the newspaper's editor-in-chief Amos Regev, and its owner, the American Jewish casino magnate Sheldon Adelson.

According to the petition, Israel Today "adds insult to injury and disseminates a platform of propaganda under the pretext of being a free newspaper, contrary to any known business model, unlike any other print media in Israel, all to serve one purpose – ongoing election propaganda in favor of the candidate, which continues throughout the year, every year."

The petitioner writes, "I am not naïve, and do not claim that all the press in Israel is pure, pristine and free of commercial or other interests, but the alternative to an world that is not ideal is not an upside-down world where black is white and white is black.

"The phenomenon called Israel Today is not a kind of 'imperfect newspaper' or 'newspaper with certain interests'. Israel Hayom is not even on the scale that has a free and responsible press at one end and a press with vested interests at the other. Israel Hayom has created its own scale of propaganda platform pretending to be a newspaper. It is said that Israel Hayom newspaper is the Israel 2015 version of George Orwell's 1984 version of Israel."

Meanwhile, Zionist Camp campaign chairman Eitan Cabel said Sunday that the Central Election Committee should make the Likud campaign fund the cost of publishing Israel Hayom, the Israeli media reported.