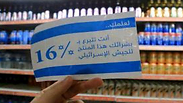 Sticker put on products saying: 'When you buy this product, you donate 16% to the Israeli army'
The Palestinians announced Monday that starting Wednesday they will prohibit the entry of merchandise from five large Israeli companies into the Palestinian Authority.

The companies whose products will be boycotted are Strauss, Elite (which is part of the Strauss Group Ltd), Tnuva, Jafora-Tabori, Osem and Prigat.

The Palestinian move comes in response to Israel's decision to freeze tax funds it collects for the PA following the Palestinian decision to turn to the UN Security Council and the International Criminal Court, as well as other "Israeli violations," including "takeover of large tracts of Palestinian lands for settlement purposes."

A commission that examined the issue and decided to bar Israeli goods, headed by Fatah Central Committee member Mahmoud Al-Aloul, said it would give Palestinian merchants two weeks time to get rid of any products from these companies that they may still have in stock.

After the aforementioned two weeks, the commission will send inspectors to ensure the boycott is enforced and that these goods are not allowed into businesses and stores throughout the West Bank.

Al-Aloul said the boycott should be part of a long-term strategy and that barring the sale of the products of these companies was only a first and gradual step, with the final objective being boycotting all Israeli-made products.

Al-Aloul's commission also included senior officials from the PLO and Fatah, and received support from the Palestinian Journalists Syndicate, which regularly calls to avoid normalization with Israel.

Four years ago, in September 2011, PA President Abbas' advisor and Fatah official Sabri Saydam said the Palestinians will use social media to impose a boycott on all Israeli products, and not just those that originate from beyond the Green Line.

In May 2010, Palestinian inspectors raided 200 businesses in Ramallah, confronted the merchants and thoroughly checked the goods on sale to enforce the law against selling settlement products.