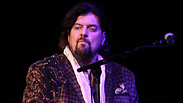 Alan Parsons in Israel
Photo: Ido Erez
Alan Parsons chose the right time to perform in Israel – on a hazy night in which we couldn't see a thing, and we needed was is an "Eye in the Sky," the delicate hit which every 1980s child knows by heart.

Parsons kept this bombshell for the end of his show, and chose to open with another major hit, "Don't Answer Me," which he performed with breathtaking vocal harmonies. The time tunnel opened up, and the audience at Tel Aviv's Menora Mivtachim Arena was as ecstatic as Julie McCoy in the opening theme of "the Love Boat."

Video: Assaf Magal (צילום: אסף מגל)

Parsons, 66, worked at the age of 19 as an assistant engineer at Abbey Road Studios during the recording of The Beatles' LP "Abbey Road." Three years later, he became involved in the production of Pink Floyd's masterpiece album "The Dark Side of the Moon," and was credited by the band as an important contributor. He later started his own progressive rock group, The Alan Parsons Project, together with Eric Woolfson.

This is Parsons' second visit to Israel, after defying BDS calls to cancel the concert. He first performed here in 2010, at the Charles Bronfman Auditorium in Tel Aviv.

On Tuesday night, he performed four or five more familiar song alongside longer rock numbers. The audience sang along to "The Turn of a Friendly Card," and then got up on its feet and thanked him with a long round of applause, expressing its appreciation for slightly different music from the mainstream which usually comes to the arena. Parsons nodded in a soft British gesture, as if saying, "I understand that you appreciate me."

As the familiar intro of "Old and Wise" began playing, Israeli rock musician Aviv Geffen got on the stage and performed the beautiful hit as if he were born in the Alan Parsons Project.

Geffen and Parsons met in Berlin about a year ago and are expected to work together on the Israeli rocker's new English-language album together with Porcupine Tree lead vocalist and guitarist Steven Wilson.

And then came "Eye in the Sky," and Parsons surprised the audience when he invited Israeli singer Marina Maximilian who took the lead of the song the way only she knows how to do. The audience leapt to its feet and documented every moment on its cell phones.