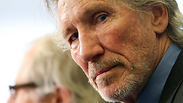 Roger Waters. 'Send a powerful message to your fans and the world'
Photo: EPA
Former Pink Floyd frontman Roger Waters has once again tried to persuade a foreign artist to cancel a concert in Israel. This time his target was Alan Parsons, who is scheduled to perform in Tel Aviv on Tuesday night.

Parsons rejected Waters' repeated requests, explaining that he refuses to mix music and politics.

The two musicians cooperated in 1971 when Parsons became involved in the production of Pink Floyd's masterpiece album "The Dark Side of the Moon" and was credited by the band as an important contributor.

Musical Collaboration

Israeli rock musician to record English-language album with veteran British producer, who will perform in Tel Aviv on February 10.

In a letter he sent to Parsons a few weeks ago, Waters reflected on their shared past: "Dear Alan, it's been 40 years since we worked on Dark Side of the Moon together. If you recall, I was the pimply bass player, you were the tall engineer. Congratulations on your many successes since then.

"The reason for my letter today is that I see you have plans to do a gig in Tel Aviv in February. I am writing to ask you to reconsider those plans. I know you to be a talented and thoughtful man, so I assume you know of the plight of the Palestinians and that there is a growing nonviolent Boycott, Divestment, and Sanctions (BDS) movement protesting against the abusive policies of the Israeli government...

"While I know you don't want to disappoint your fans by canceling this gig, you would be sending a powerful message to them and the world by doing so. As with Sun City, more and more artists are standing up to say they will not perform in Israel until such time as their occupation ends and equal rights are extended to Palestinians.

"I ask that you consider joining me, and hundreds of thousands of others, by lending your voice to a conversation that rejects violence, embraces international law, and helps the global community pursue a just peace for all the people of the Holy Land."

Parsons was not convinced by the appeal. On Sunday, during a meeting with members of a rock community from the Rimon School of Music, he said that he had been approached by different groups asking him not to perform in Israel.

"But I replied that I would come here and perform because I don't mix music and politics," he said. "I see music as a superior thing and I will perform wherever I am invited to. I perform for people who enjoy listening to my music."