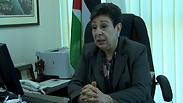 Hanan Ashrawi
Photo: Eli Mandelbaum
NEW YORK - Top Palestinian official Hanan Ashrawi took the witness stand in New York on Tuesday as the Palestinian Authority and the Palestinian Liberation Organization fight a lawsuit that would force them to pay up to $3 billion to victims of attacks in Israel.

Victims and their families have sued the authority and the PLO over six shootings and bombings in the Jerusalem area from 2002 to 2004 that killed 33 and wounded more than 450, claiming the defendants provided support to the terrorists who carried out the attacks.

Lawyers for the Palestinians have argued in US Federal court that their government should not be held responsible for the actions of a few individuals who acted on their own or at the behest of outside terror groups such as Hamas.

Ashrawi, a member of the PLO's executive committee, said she and other leaders, including the late Yasser Arafat, worked with US and Israeli officials to combat terrorism during those years.

"It didn't serve the cause of the Palestinian Authority or the PLO, nor the cause of freedom," she said of the attacks.

Her testimony, which lasted about two hours, followed that of Majid Faraj, the authority's head of intelligence.

Related stories:

Lawyers for the plaintiffs have accused the Palestinians of making payments to militants convicted of terrorism as a means of supporting their actions.

Faraj told the jurors the payments were intended to help the convicted men's families and remove economic reasons for them to engage in further attacks.

During cross-examination, Kent Yalowitz, a lawyer for the plaintiffs, asked Faraj about Abdullah Barghouti, accused of being one of Hamas' chief bomb-makers in the early 2000s.

Faraj had testified earlier that Barghouti escaped from Palestinian custody in 2002. Yalowitz, however, showed Faraj an Israeli police report in which Barghouti said the Palestinian security forces allowed him to go free, despite his alleged role in several attacks.

Faraj said he did not know the source of the police report.

Barghouti was later arrested by Israel and eventually sentenced to life in prison.