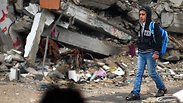 Gaza in November 2014
Photo: Reuters.
A top UN official warned Thursday of another potential conflict in the Gaza Strip, urging Israel to lift its blockade and the Palestinians to end in-fighting to avoid further violence.

The United Nations also called for an additional $705 (622 million euros) million in humanitarian aid to the Palestinian territories, most of it for Gaza which saw its bloodiest and most destructive conflict last year.

"Right now, things are not going well, and we're very concerned about the possibility of a further conflict," James Rawley, UN humanitarian chief for the Palestinian territories, told AFP.

"But it's not inevitable... as long as several things happen.

"To have a complete recovery of Gaza, even to go back to where we were in July (before the 50-day conflict) requires more than construction material going in. It requires a lifting of the blockade," said Rawley.

"In parallel, we have to see a commitment from the militant groups in Gaza to stop firing rockets at civilians in Israel... and Palestinian reconciliation moving forward" to reassure donors that building materials were not falling into the hands of militants, he added.

Meanwhile the UN, at a news conference in Ramallah, said 75 percent of the additional aid it needs would be destined for Gaza, and the remainder for the West Bank.

The July-August war between Israel and Gaza rulers Hamas killed almost 2,200 Palestinians and 73 on the Israeli side, and left 100,000 Gazans homeless.

Delivery of building materials to reconstruct damaged homes had increased significantly after a slow start, Rawley said, with "good cooperation" from Israel, which controls two of Gaza's three crossings. Egypt controls the third.

He also stressed the importance of implementing a months-old unity deal between West Bank-based Fatah, which dominates the Palestinian Authority, and Hamas, which has seen disputes over who controls Gaza's internal checkpoints.

But Palestinian deputy prime minister Mohammed Mustafa dismissed reconciliation as the principle concern for stability in Gaza.

"I think reconciliation will help, but I don't think it's the problem today," he told the Ramallah news conference.

"The real test" would be to ensure funding and bring in more construction material, he added.