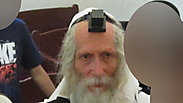 Rabbi Eliezer Berland
Photo: Akiva Novik
A court in the Netherlands decided on Thursday to extradite Rabbi Eliezer Berland to Israel, where he's wanted for questioning on suspicion of sexual offenses.

Rabbi Berland, one of the leaders of the Breslov Hasidic movement in Israel, escaped the country almost two years ago after suspicions against him arose that he committed sexual offenses in women, including a minor, who came to seek his counsel.

He has since moved from one country to another - including Morocco - with hundreds of his followers, out of fear he would be extradited to Israel.

Rabbi Berland's attorney, Sharon Nahari, said he intends to appeal the decision.

"We're studying the decision at the moment," Attorney Nahari said. "We've agreed with Dutch authorities that he won't be arrested at this point, so he could continue wandering freely in the Netherland. We intend to file an appeal that will be in court in a few months. We also intend to turn to the European Court of Human Rights in Strasbourg, and we'll await an answer to the appeal. We're still confident that our arguments are good arguments and the rabbi shouldn't be extradited to Israel."

Rabbi Berland was arrested last September by the Dutch police while he was in Amsterdam.

The Justice Ministry announced then that Israel intended to demand his extradition, after the arrest was made at Israel's request with an arrest warrant issued by Interpol.

A day after Berland's arrest, a Dutch court ordered his release. The court accepted Berland's claims and released him on bail.

In a conversation with Ynet after his release, Berland rejected the accusations against him. "All of a sudden two policemen came and told me I was under arrest. The police in Israel are persecuting me."