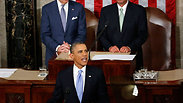 New poll finds majority of respondents think Obama should meet Netanyahu on US visit.
Photo: AP
The majority of Americans think President Barack Obama should meet with Prime Minister Benjamin Netanyahu when the Israeli premier visits Washington next month to speak in front of joint session of Congress, according to a poll conducted by international internet-based market research firm YouGov and the Huffington Post.

While nearly half of respondents found it inappropriate for Republican Speaker of the House John Boehner to invite Netanyahu to address Congress without seeking approval of the White House, a majority of respondents also said that they think President Obama should meet with Netanyahu and many were of the opinion that their Congressmen should attend the speech.

In a survey of 1000 US adults interviewed from February 4-8, 2015, 49 percent said it was inappropriate for a member of Congress to invite a foreign leader to speak in the US without first consulting with the White House – 26 percent found that such an invite would be appropriate while 25 percent said they were unsure.

When the question specifically addressed the case of House Speaker Boehner inviting Netanyahu to address Congress without approval, and mention the White House calling the invitation a breach of protocol, 47 percent found the invitation inappropriate, 30 percent found it appropriate and 23 percent were unsure.

Yet, when respondents were asked whether they believe their member of Congress should attend Netanyahu's speech, 46 percent said yes, while 28 percent said no.

Furthermore, when asked if President Obama should meet with Netanyahu during his visit, the majority of respondents, 58 percent, said yes, while 19 percent said no.

Thus, according to the poll, while respondents did not think it was appropriate that Boehner requested Netanyahu to address Congress without coordinating with the White House, nearly half of respondents still believed that their representatives should attend the speech and even believed Obama should meet with Netanyahu during what has come to be a controversial visit.

When asked who they thought does a better job handling US-Israel relations, there was no clear answer among respondents. While 26 percent believe the Republicans in Congress handled US-Israel relations better, 24 percent felt President Obama handled relations better while 26 percent felt neither knew how to handle the long-lasting relationship properly. Moreover, 24 percent were unsure who knew how to best deal with the US' long time ally in the Middle East.

The margin of error of the study was ±4.1 percent.