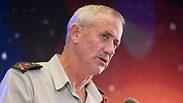 Lt. Gen. Benny Gantz
Photo: IDF Spokesperson's Unit
Next Monday will mark the end of Lt. Gen. Benny Gantz's term at the helm of the Israeli Defense Forces. The 20th IDF chief of staff, who inherited a significantly different military, stamped his mark on Israel's forces – for good and bad – during his four-year tenure.

To his credit, it must be said that though he was pulled out of civilian life without any preparation, knowing he was not the first choice for the role, Gantz was an attentive, perceptive, and calm IDF chief of staff, who successfully settled the general staff after the Harpaz scandal.

Gantz was also able to disarm the institutional landmines left behind in the affair's wake and inspired in his officers a spirit of openness which allowed them to share their opinions and express criticism in public.

He will be remembered as an army chief who insisted on visiting bereaved families and made sure to see each and every wounded soldier hospitalized.

But it is unlikely Gantz will receive high marks for the professional, technical aspects of his tenure. In recent years the Middle East has experienced several upheavals, borders have lost stability, and the financial noose continues to hang over each budget prepared by the defense establishment.

Though he is not solely to blame for these developments, during his term at the helm Gantz did not manage to pass a single multi-year working plan to prepare the military for future challenges. However, he did invest heavily in strengthening the air force and the intelligence branch.

Yet the ground forces, according to Gantz's critics, have atrophied and lost their offensive ethos. One senior officer described their capabilities as "handicapped."

The central critique against Gantz is that he did not properly manage his resources; one need only look at the State Comptroller's report on the decreased level of preparation of the reserve forces or note that the project to fit the IDF's armored personnel carriers with heavier armor has been halted (the military has few heavy APCs and tanks equipped with Trophy active protection systems).

Jet fighters and cyber warriors are important, but ground forces have yet to adapt themselves to regional developments, the most prominent example is Hamas' evolution to advanced underground guerrilla warfare and its shift from a defensive mindset to an offensive one in the time between Operation Cast Lead six years ago and Operation Protective Edge from this summer. Instead of attempting to take these changes into account, the IDF has shifted in recent months to what can be called 'Festival Protective Edge', as if it was one of the IDF's most successful operations and no a war that lasted for over 50 days – much longer than initially anticipated – and in which entire areas of the country were forced to live in bomb shelters while the IDF failed to defeat the enemy.

It is true the prime minister and cabinet share a portion of the blame for this failure, but at a military level there was no lack in mistakes: as if unarmed personal carriers were not sent into battle, as if the Egoz Battalion did not fight without vests because there were none to give them, as if soldiers were not killed while waiting to deploy and as if IDF forces were prepared to deal with Hamas' tunnels. Even if the IDF wants to project the sense of victory , it is pertinent that within they tell the true story of what happened over the summer, exactly as was the case during the Second Lebanon War in 2006, when the IDF bowed its head and focused on mending the systemic shortcoming.

And now command passes to the incoming IDF Chief of Staff Gadi Eisenkot. His most important responsibility is preparing the army for the next war and make sure it wins. In the new geopolitical arena the IDF cannot afford to be anything less than a significant and maneuvering force on the ground, at least on one front. The IDF must be able to conduct ground maneuvers, and it needs to be built so that it will be effective, trained, well armed, fully computerized, armored and leather, especially in face of what is happening in Lebanon and Syria.

Eisenkot will need to chart a new course for the IDF, just like he did when he came into the Samaria District Command at the height of the Second Intifada and the suicide attacks. Eisenkot can boast the curtailing of terror at that time, a bragging right he gain by taking a proactive approach and leading offensive movements, door-to-door raids by an effective ground force – now he will need to make sure that the entire army has such a force.