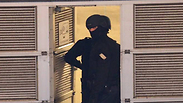 Danish police near scene of attack
Photo: AFP
New developments emerged Saturday night surrounding the fatal shooting attack at a free speech event at a Copenhagen cafe during which one civilian was killed and three police officers were wounded.

Denmark's prime minister, Helle Thorning-Schmidt, said the country was on high alert after a "terrorist attack" in Copenhagen that police said had been aimed at a controversial Swedish artist.

"We feel certain now that it was a politically motivated attack, and thereby it was a terrorist attack," she told reporters close to the site of the shooting, in which one civilian was killed and three policemen were wounded. "We are on high alert all over the country."

Police said preliminary interviews with witnesses suggested there had been only one attacker, not two as they had previously stated, and issued a photograph of the suspect.

Police announced on Saturday the death of one civilian after Danish media reported several shots had been fired at a cafe in Copenhagen where a meeting about freedom of speech was being held, organized by Swedish artist Lars Vilks, who has faced numerous threats for caricaturing the Prophet Mohammad in 2007.

The dead civilian man was 40 years old. Police with searchlights were scouring the area for evidence. Danish police said they did not know whether the incident was a "terrorist act" but were investigating it as one.

Sweden's security police said Swedish bodyguards were with Vilks at the time of the shooting.

Authorities in southern Sweden said they were helping Danish police. Sweden is joined to Denmark by bridge, and transit across is largely unchecked.

The TV2 channel said Saturday there were some 30 bullet holes in the window of the Krudttoenden cafe and said at least two people were taken away on stretchers, including a uniformed police officer.

According to Danish news agency Ritzau, three police officers were wounded in the shooting.


"I heard someone firing with an automatic weapons and someone shouting. Police returned the fire and I hid behind the bar. I felt surreal, like in a movie," Niels Ivar Larsen, one of the speakers at the event, told the TV2 channel.


Vilks stirred controversy in 2007 with published drawings depicting the Prophet Mohammad as a dog which sparked threats from Islamist militant groups. He has since lived under heavy security.

French President Francois Hollande said on Saturday he had been informed of an attack in Copenhagen during a public meeting on freedom of expression attended by the French ambassador to Denmark.

Ambassador Francois Zimeray was not hit by the gunshots, Hollande said in a statement, adding that several people may have been wounded and that Interior Minister Bernard Cazeneuve would go to Copenhagen as soon as possible. Hollande expressed his solidarity to Danish Prime Minister Helle Thorning-Schmidt, he said.

Ambassador Zimeray tweeted that he was "still alive in the room".

"They shot us from outside the building, it was the same intention as for Charlie Hebdo, except that they couldn't get in," French news agency AFP quoted him as saying.

Helle Merete Brix, one of the event's organizers, told The Associated Press that Vilks was at the meeting but not injured.

"I saw a masked man running past," she said. "A couple of police officers were injured."

"I clearly consider this as an attack on Lars Vilks," she added, saying she was ushered away with Vilks by one of the Danish police guards that he gets whenever he is in Denmark.

CNN spoke to an eyewitness who claimed the assailant escaped the scene of the crime.

The cafe in northern Copenhagen, known for its jazz concerts, was hosting an event titled "Art, blasphemy and the freedom of expression" when the shots were fired.

Niels Ivar Larsen, one of the speakers at the event, told the TV2 channel that he saw two wounded people.

Reuters and the Associated Press contributed to this report.