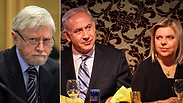 State Comptroller set to release PM spending probe findings.
Photo: Avishag Shaar-Yashuv, Gil Yohanan
Israel's State Comptroller Yosef Shapira was set to publish on Tuesday afternoon the findings of a probe examining allegations of misappropriation of state funds and excessive spending by Prime Minister Benjamin Netanyahu and wife, Sara.

The allegations surrounded the expenditures of the Prime Minister's Residence in Jerusalem, and the state comptroller's report is expected to shed light on the Netanyahu family's expenditures related to both the Prime Minister's Residence and their private home in Ceasarea.

Netanyahu and his lawyers were summoned to a hearing last month by State Comptroller Shapira, as part of proceedings before the publication of the report. It is important to note that the report does not relate to recent affairs tied to the Netanyahu family, but rather deals with the management and expenditures of the prime minister's homes solely.

The report is divided into two parts: The first part deals with the Netanyahu family's spending in recent years and the second part deals with the expenses of the Prime Minister's Residence.

Netanyahu said ahead of the release of the report: "We will refer to the report on the expenditures of the Prime Minister's Residence when it is released – and proves that everything was done according to the law."

In addition, two reports will also be published dealing with the Knesset director and the chief financial officer of the President's Residence during the tenure of former president Shimon Peres.
Sara Netanyahu's Home Tour
On Monday, in what Israeli media interpreted as an attempt to gain public sympathy before the findings of the report were released, Netanyahu released a video that featured the prime minister's wife Sara giving a tour of the Prime Minister's Residence to celebrity interior decorator Moshik Galamin.

The video began with Sara Netanyahu quickly greeting Galamin, saying Galamin would see the house in all of its peeling glory that was "very different than what you hear about on the outside."

Sara then gave Galamin a tour of the home – highlighting peeling paint and crumbling plaster. A close-up shot of an oriental rug showed threads straying at the edges.

Sara Netanyahu gives tour of Prime Minister's Residence (in Hebrew)

Sara was seen continuously apologizing for the condition of the residence – she pointed out dusty lamps and creaking doors. Galamin expressed his shock at the old design and state of the various rooms in the residence.

Sara also showed Galamin the kitchen on the first floor, which Galamin described as a kitchen that looks like it came from "a Romanian orphanage in 1954."