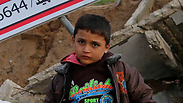 Palestinian boy near ruins in Gaza
Photo: Associated Press
The Coordinator of Government Activities in the Territories (COGAT) decided to raise the quota of entry permits for Gaza merchants to the West Bank and to Israel from 3,000 to 5,000 a month, while the number of daily exit permits from the Strip to the West Bank and to Israel has been doubled from 400 to 800 a day.

The COGAT also approved the marketing of more industrial and agricultural goods from the Gaza Strip in the West Bank, such as textile, furniture, fruit, vegetables and fish. At the moment, however, Gaza farmers and merchants are not allowed to market their goods in the Israeli market, even though the issue has been examined in the past.

In addition, Israel authorized the entrance of 45 tractors to the Gaza Strip for farming.

The new easing of measures join others made at the end of 2014, including increasing the number of entry permits into Gaza for the purpose of the reconstruction of the Strip. Many international organizations took advantage of the increased number of entry permits to enter the Strip and try to speed up the rebuilding effort.

The late 2014 decision also included weekly marketing of agricultural produce from the Gaza Strip to the West Bank. So far, 2,600 tons of agricultural produce from the Strip have reached the West Bank.

COGAT also eased the process of acquiring permits to leave from Gaza abroad, mostly for the purposes of higher education, as well as the passage of medical teams from the Strip to the West Bank for continuing education program.

Additionally, Palestinians from Gaza aged 60 and over will be allowed to visit their relatives in the West Bank, and attend prayers at the al-Aqsa mosque in Jerusalem. Palestinian families of prisoners held in Israeli jails have also begun to make periodic visits to the prison facilities, following the report's approval.