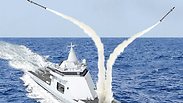 Maritime version of Iron Dome
The Indian government is soon expected to approve an order of two "Phalcon" early warning systems for aircrafts from Israel Aerospace Industries (IAI) to the tune of $1.1 billion, according to a Tuesday report by the Times of India.
The news came as Israel's Defence Minister Moshe Ya'alon arrived in India on Wednesday to help sell his country's arms industry to the world's largest defence importer and promote deepening military ties between the two nations.
India and Israel, which only established full diplomatic ties in 1992, are developing an increasingly close commercial and political relationship, particularly since Indian Prime Minister Narendra Modi was elected last May. New Delhi is now the largest buyer of Israeli military equipment, while Israel is India's largest customer after Russia.
The planes will join a fleet of three "Phalcons" purchased in the past. Still on the agenda is a deal to buy radar balloons from Elta for about $300 million. The announcement came ahead of the opening on Wednesday of the Aero India air show in Bangalore.
Ya'alon travelled to show, becoming the first Israeli defense minister to visit the country. He was to inaugurate the ministry's exports authority pavilion, in which 15 Israeli defense companies will be showcased.
"The security relationship between India and Israel is coming out of the closet," said the Times of India regarding Ya'alon's visit to India, which is dealing with Islamic terror and a nuclear Pakistan.
After landing he told journalists India was vital to Israel's defense industry. "We are open to more or less (selling) anything. We believe that we have the better product," he said at the Israeli pavillion, where executives from the country's largest defence firms including Elbit Systems and Rafael Advanced Defence Systems are showcasing their latest weaponry.
India has become one of the most important export markets for the defense industry, and spends more than $1 billion in Israel every year, out of an expenditure of $6.5 billion in 2014.
India bought 16 "Heron" drones from IAI over the last few years for about $200 million, as well as 250 "Spice" smart bombs from Rafael Advanced Defense Systems (RADS) for an undisclosed sum and more than 8,000 "Spike" anti-tank missiles from RADS for about $500 million.
The crown jewel of the Indo-Israeli relationship was the joint development of the Barak 8 surface-to-air missile system, including both maritime and land-based versions. India purchased about $2 billion worth of the missiles.
India's defense ministry recently issued tenders for drones to support infantry, for which Elbit Systems and IAI are expected to vie, as well as a huge tender for a protection system for 1,600 T-90 tanks, for which Rafael is expected to bid with its "Trophy" system against, or in cooperation with, Israel Military Industries, developer of the competing "Iron Fist" system. The tender is worth approximately $1 billion.
"In the last few years the United States aggressively entered the Indian market, with the support of President Obama, overcame Russia and Israel, and become India's largest weapons supplier," said a security source. "But the Indians are professional; they know what they want and insist on it.
"They mostly purchase complete platforms from the US, but choose to install better Israeli systems, which are also less expensive. The joint defense development is conducted both directly between India and Israel's industries and on the governmental level. Joint projects that are sensitive for both countries are not revealed."
The Israeli pavilion was to present for the first time the smallest drone camera in the world, produced by Controp; a miniaturized electronic warfare system that is 10 times smaller than competitors; a program to automatically identify objects in aerial photographs; and a three-dimensional audio system for aircraft developed by Orbit Communications System.
IAI was to unveil a new maritime patrol aircraft based on Bombardier's "Global 5000" business airplane. The aircraft was to combine advanced observation, surveillance, and defense capabilities, and could be fitted with anti-ship missiles.
Rafael was to show the naval-based version of Iron Dome, based on Israel's defense system against rockets, and meant to provide protection for ships and civilian facilities such as gas fields and ports. Elbit was to present its electronic warfare system for protecting airplanes and helicopters, alongside its "Hermes 450" drone.
Reuters contributed to this report