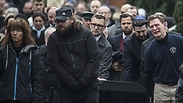 Jewish victim of Copenhagen terror attack buried.
Photo: AFP
The Jewish security guard, Dan Uzan who was shot to death by a terrorist outside Copenhagen's main synagogue on Saturday was laid to rest on Wednesday.

Uzan, a 37-year-old volunteer security guard, was killed in the second of two weekendshootings that sent jitters across Europe.

Dan Uzan is laid to rest

Security was tight as hundreds of people gathered at a Jewish cemetery in Copenhagen for Uzan's funeral, with police out in force along with sniffer dogs and snipers posted on nearby rooftops.

Prime Minister Helle Thorning-Schmidt, who said this week that "an attack on the Jews of Denmark is an attack on Denmark", attended the ceremony.

"Everybody in our community knew Dan," said Dan Rosenberg, head of the Danish Jewish community .

"He was always ready to do his part, he was a very fine example for the whole community."

Danish security services have come under scrutiny over what action had been taken to prepare for possible attacks in the wake of terror attacks in Paris just weeks before.

Danish intelligence acknowledged on Tuesday that the suspected gunman, identified as a 22-year-old with a history of violent crime, had been flagged as being at risk of radicalization while he was in prison.

But police dismissed criticism they had failed to boost security after the Paris attacks in January that killed 17 people including four Jewish French citizens.

"The security level was raised after the incident (in Paris)," senior police official Peter Dahl told the Jyllands-Posten newspaper.

However, members of the Jewish community in Denmark have said they did not notice any increased police protection ahead of the Copenhagen attacks, according to the paper.

The alleged gunman, named as Omar El-Hussein, launched his rampage on Saturday, first firing off dozens of rounds outside a cultural center where a debate on Islam and free speech was taking place.

Finn Noergaard, a 55-year-old Danish documentary film director, was shot dead and three police officers were wounded.

Several hours later, the assailant opened fire outside the synagogue where a bar mitzvah was being celebrated, killing Uzan and injuring two policemen.

The suspect, a Danish-born man of Palestinian origin, died in a hail of police bullets in a pre-dawn shootout on Sunday.

Two men have been charged with helping him dispose of his weapon and giving him somewhere to hide.