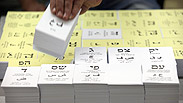 Israeli users will see the "I voted" button at the top of their news feed
Photo: Gil Yohanan
Facebook announced Wednesday that it will offer Israeli users a feature which will allow them to share that they voted in the March 17 Knesset elections, and additionally receive information from Israel's Central Election Committee on the polling station at which they cast their ballot.
According to an announcement by the social media site, Israeli users will see the "I voted" button at the top of their news feed. By clicking the button, users will be able to publish their status as a voter to their Facebook friends.
Elizabeth Linder, Facebook's Politics & Government Specialist for EMEA explained the motivation behind the initiative: "Facebook connects people with the things that are important to them, and election periods are rich with significant conversation moments and civilian debates. The voter-participation rate is an important matter worldwide, and in Israel, we hope that the 'I'm Voting' button will make it easier for voters to share the fact that they are participating in the elections, and will serve as a reminder to others to go out and vote."
When Americans voted to renew President Barack Obama's lease on the White House in November 2012,
more than nine million citizens took to Facebook to click the "I'm a Voter" button, showing their online friends that they had cast a ballot.
The feature was also available for voters in India as the world's largest democracy chose a new prime minister, Narendra Modi. Over 4 million Indian voters used the "I'm a Voter" button during the country's parliamentary elections, Facebook said.
Reuters contributed to this report.