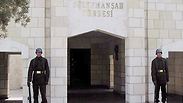 Suleyman Shah's tomb
Photo: AP
ANKARA -- Turkey launched an overnight military operation to evacuate troops guarding an Ottoman tomb in Syria, and the tomb itself.

State-run broadcaster TRT television said ground troops backed by warplanes crossed into Syrian territory to evacuate troops guarding the tomb of Suleyman Shah, the grandfather of the founder of the Ottoman empire, just over the border near the town of Kobani.

Related articles:

Privately owned NTV television said one soldier was killed in the operation, also which included moving the tomb into Turkey.

A statement by the Turkish military later said that there had been no clashes during the operation into Syria, but confirmed that one soldier had been killed in an accident.

On Twitter, Prime Minister Ahmet Davutoglu said early Sunday that the troops had been evacuated from Syria, and that the tomb had been moved into Turkey. He was expected to hold a news conference at the military headquarters later in the day. Davutoglu also said that the tomb would be moved to a different area of Syria that had been brought under Turkish army control.

Kobani was the focus of US airstrikes as Kurdish forces battled militants of the Islamic State group, who hold about a third of Iraq and neighboring Syria in their self-declared caliphate. Turkey stayed out of the battle at the time, which saw Kurds ultimately push out the extremists.

Some 40 Turkish troops guard the tomb of Suleyman Shah, the grandfather of Osman I, founder of the Ottoman Empire. The tomb, some 35 kilometers from Turkey on the banks of the Euphrates River, sits in Syria's embattled Aleppo province and is considered Turkish territory.