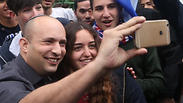 Naftali Bennett at Blich
Photo: Motti Kimchi
The high school that predicted the 1977 elections upset and Yitzhak Rabin's victory in 1992, as well as Yair Lapid's big achievement in the 2013 elections, has predicted another upset in the 2015 elections. The students at Blich High School in Ramat Gan took part in a mock election on Sunday, giving the Zionist Union headed by Isaac Herzog and Tzipi Livni 32 percent of the votes.

Lapid's party, Yesh Atid, got 28 percent of the votes and ruling party the Likud only got 14 percent, placing it in third place.

Bayit Yehudi received 10 percent of the votes, Meretz got 9 percent, Kulanu got 5 percent, Yisrael Beytenu received 2 percent and the joint Arab list got zero percent of the votes.

Over a 1,000 sophomores, juniors and seniors (10th-12th grade) took part in the mock election. Students were wearing T-shirts representing the different parties and several politicians arrived at the school to talk to the students.

"Let's go wild!" Lapid, who was met with loud cheers, told the students. "We came to fight for the country on your behalf, our party thinks about young people."

Yisrael Beytenu's Orly Levy-Abekasis, on the other hand, said she "hoped the students are not deceived by a look and a leather jacket. This is not how you run a country. It's a shame candidates are performing here instead of allowing MKs to talk."

Tzipi Livni, number 2 on the Zionist Union list, told the students: "Young people, wake up! There is energy here at Blich that can change the government. There are brave, informed students that for nine years of their lives, half of their lives, were under Bibi rule and they know and understand they deserve more than a prime minister that doesn't do anything for them. They deserve a better and safer future and a real change so they could buy a home and get a job."

MK Tamar Zandberg from Meretz, a Blich alum, said: "I'm proud teenagers are getting involved. The students here carefully read the campaign platforms and asked practical questions. I wish adults decided on their vote this way."

Likud MK Danny Danon, who also went to Blich, said: "I went to school here 30 years ago. The results don't decide the elections, but it's symbolic."

Or, a senior who supports Meretz, was frustrated with the turn of political tides in the school. "Meretz is the only party that committed to recommending Herzog for prime minister. The school is turning more and more right wing every year and it pains me."

Amir, another senior, expressed support for the Zionist Union. "Bibi has been in power for many years, and if we're talking about an alternative to the leadership, it's Buji (Herzog) and Tzipi."

Yuval, a junior who supports Likud, said: "Bibi has experience and charisma. He's the lesser of the evils and can lead the country."