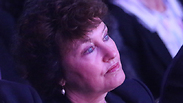 Bank of Israel Governor Karnit Flug
Photo: Motti Kimchi
The Bank of Israel lowered its benchmark interest rate on Monday to an all-time low of 0.1 percent on Monday. The move came as a surprise, after 11 of 12 economists polled by Reuters had expected the central bank to stand pat.

The central bank cut the rate to signal its determination to push back against the negative inflation holding down the market towards its intended annual target of one to three percent.

Lowering the interest rate theoretically leads to an increase in demand within the market and helps increase prices towards the inflation target which the Bank of Israel set for the local economy.

"The Monetary (Policy) Committee is of the opinion that in view of the increased rate of appreciation, and its possible effects on activity and inflation, reducing the interest rate to 0.1 percent is the most appropriate step at this time in order to support achieving the policy targets," the central bank said in a statement.

The shekel had weakened some 15 percent from July through the end of January, then gained 2.6 percent against the dollar this month and 3.3 percent in terms of the nominal effective exchange rate, the Bank of Israel noted.

"Continued appreciation is liable to weigh on growth in the tradable industries -- exports and import substitutes," it said.

Another reason for lowering the key rate, the Bank of Israel said, was further monetary easing by other central banks as inflation declines.

The Consumer Price Index published by the Central Bureau of Statistics last week recorded a sharp decrease of 0.9 percent meaning actual inflation – which is calculated for the 12 previous months – a continues its negative trend at 0.5 percent.

The expected inflation for the upcoming year remains lower than the target at only 0.8 percent.

While helping correct the course of inflation, the rate cut will also theoretically decrease financing costs for manufacturers, thus helping to encourage economic activity in the market.

Last week the CBS reported that the Israeli economy grew by 7.2 percent in the fourth quarter of 2014, but on Sunday the Bank of Israel clarified that the sharp rise was not expected to continue, as the growth rate was exceptional in that it showed the recovery of the market after Operation Protective Edge and an increase in auto purchases emanating from a change in tax policy.

Reuters contributed to this report.