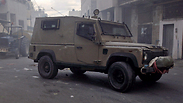 The Palestinian youth was evacuated to a hospital, and later died from his injuries.
Photo: AP
An IDF soldier was lightly wounded and a Palestinian man from the Deheisha Refugee Camp near the West Bank city of Bethlehem was killed overnight Tuesday during clashes with IDF troops. Riots broke out at the camp after the troops entered the area. During the clashes, Jihad Shahada al-Jaafari, a 19-year-old Palestinian, was killed.
An Israeli military spokeswoman said the Palestinians hurled rocks, blocks and firebombs at the troops, wounding one soldier lightly. "The force, feeling imminent danger to their lives, responded with fire toward an instigator," she added.
The Palestinian youth was evacuated by the Palestine Red Crescent to a hospital, and later died from his injuries.
Residents of the camp claimed that al-Jaafari was shot in the shoulder while he was in the area of his home, and that the Palestinian rescue forces were initially not permitted to reach him. Deheishe is the oldest refugee camp in the West Bank. The camp, which was established by the UN 60 years ago, houses approximately 13,000 Palestinians.
Reuters contributed to this report.