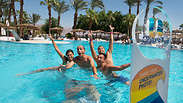 Eilat. The city which took the hardest hit following Gaza war
Photo: Fattal
Israel's hotels are defining January as a "black month" in terms of tourist stays, as the local tourism industry's fails to recover from the crisis which began during the past summer's Gaza conflict.

According to figures released Monday by the Israel Hotel Association (IHA), the number of tourist stays last month was 22.5% lower than in the same period in 2000. Moreover, it was the worst January in terms of tourist stays since 2007.

Marketing Israel

New campaign launched by Israeli tourism industry seeks to turn Israel into a 'tourism power' by investing NIS 200 million in marketing efforts.

While the incoming tourism crisis continues, hotels have recorded a rise in domestic tourists' stays. IHA President Eli Gonen remains optimistic, however, saying that history proves difficult crises can be overcome through marketing efforts.

"Despite the election period, the Tourism Ministry must find ways and budgets to increase Israel's marketing around the world," he notes.

According to figures compiled by the IHA's economic department, January recorded 518,000 tourist stays compared to 689,000 in the same period last year and 669,000 in January 2000. Domestic tourist stays were up 6% from January 2014, totaling 816,000.

The city which took the hardest hit, according to the data, was Eilat. The number of tourist stays in the southern resort city plunged 50% from January 2014 and 75% from January 2000.

Sharp drops in tourist states were also recorded in Jerusalem (23%), Tel Aviv (28%), the Dead Sea (44%), Tiberias and the Sea of Galilee area (20%) and Haifa (17%).

According to Gonen, "The economic crisis in Russia is aggravating the crisis experienced by the incoming tourism industry in Eilat and in the Dead Sea since Operation Protective Edge. The Hotel Association is calling for an increase of marketing efforts in Russia."