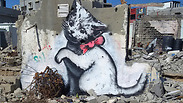 The anonymous but eminent British street artist known as Banksy has again taken aim at Israeli policies regarding the Palestinians, sneaking into the Gaza Strip and filming the devastation there in the wake of last summer's IDF Operation Protective Edge, which ended six months ago.

The two-minute video, entitled "Make this the year YOU discover a new destination" was uploaded to his website and YouTube on Wednesday. Like many of Banksy's murals and other art it is politically charged and whimsical at the same time.

The film begins with the title against a backdrop of an airplane wing, blue skies and fluffy clouds. But the footage soon switches to the tag line "Welcome to Gaza" and scenes of ruined buildings in Gaza, with children perched among the rubble.

"Well away from the tourist track", the video states, explaining that the area was accessed "via a network of illegal tunnels". The film says Gaza is hemmed in on three sides by its "friendly neighbors" the Israelis, and can only be entered through one of the tunnels shown.

It makes no mention of the fact that the border between Egypt and Gaza is also closed and that the Egyptian government has denounced Hamas as terrorists. Nor does it show images of Hamas or its own use of rockets during the conflict.

"The locals like it so much they never leave (Because they're not allowed too)," the video says, and shows an image of Israeli troops.

"Development opportunities are everywhere" and there is "plenty of scope for refurbishment", the subtitles say, noting that 18,000 homes were destroyed in the fighting and showing IAF footage of bombing in Gaza. The video also incorrectly states that no cement has been allowed into Gaza since the summer war - cement is allowed to enter the strip under oversight.

Towards the end, the camera focuses on a mural of a playful-looking kitten, painted by Banksy, with a man looking at it and saying in Arabic that at least the cat found something to play with, because the children in Gaza have nothing.




Elsewhere on his website, Banksy says that during the filming a local man had asked him what the meaning was of the kitten. "I explained (that) I wanted to highlight the destruction in Gaza by posting photos on my website - but on the Internet people only look at pictures of kittens."

The film ends with a message painted on a wall: "If we wash our hands of the conflict between the powerful and the powerless we side with the powerful - we don't remain neutral."

This is not the first time that the British artist has used his street drawings to criticize the Israeli government. A range of his work is daubed on the West Bank separation fence, including the silhouette of a girl being carried into the air by the bunch of balloons she is holding in her hand.