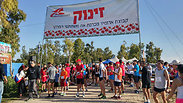 Race in honor of Daniel
Photo: Barel Ephraim
Some 2,000 runners, including dozens of children wearing superhero costumes, participated in the annual Anemones Race on Friday in memory of Daniel Tregerman, who was killed when a mortar fired from Gaza struck his kibbutz in the Sha'ar HaNegev Regional Council.

The recently retired IDF Chief of Staff Benny Gantz, who was in Nahal Oz when the fatal hit occurred, also participated in the 10km race. Some of the participants were not at all familiar with Daniel, but felt compelled to take part in the tribute to his memory after hearing of his death.

The race took place in the Shokeda Forest in the northern Negev, and was conducted as part of the Darom Adom Festival. After the traditional round of heats were over, dozens of children and their parents, all dressed up as superheroes, whom Daniel admired, headed out to the run, not before holding a minute of silence in his memory.

Among the runners was the Demfi family, including parents Yael and Itamar, and their children: 5 and a half year-old Levi who wore a superhero costume, and 4 and a half year old Uriah who dressed up as Spiderman. "Daniel's story is embedded in our memory. Ever since his death, we feel compelled to take part in activities related to the memorialization of his life. We heard about this event and wanted to come here as well, to an area where Daniel grew up and loved so much, and let our children run in honor of his memory. For us, this represents closure," Yael said.

Former IDF Chief of Staff Benny Gantz had kept contact with the family ever since the tragedy. Gantz was in Nahal Oz when the deadly hit occurred, and was among the first to arrive at the Tregerman home. At the race, he met with Daniel's parents, Gila and Doron, and grandparents. The race was also attended by IDF soldiers from the Gaza Division, Givati soldiers, and Gaza Division Commander Brig-Gen. Itay Virov.

Polina, Daniel's grandmother, said: "We had a very difficult six months. This week, Daniel turned five and we didn't celebrate his birthday. This is a very exciting event. It's hard for me that Daniel is not here with us, that I can't hold him in my arms. But I feel like he's here with us at every moment. I wish things could be different."

She further said: "Not a day goes by when I don't cry or miss him. I sit on the porch at home and imagine him running and playing in the grass. I hope next year everyone will come again and run with us in tribute to his memory."

Head of the Merhavim Regional Council Shai Hajaj, who was among the event's organizers, along with the organizers of the Darom Adom Festival, said at the end of the event: "We will never forget that just a few months ago, right here in these areas, there were tanks here and the color red that was here was of a different type, not anemones. We will meet here next year and will never forget Daniel or those who fought here during Operation Protective Edge."