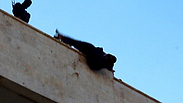 Man thrown off roof in Raqqa
The Islamic State group has released horrifying images showing a blindfolded man being thrown of the roof of a building in the Syrian city of Raqqa – as punishment for being a homosexual. A large crowd, including children, gathered at the foot of the structure, and stoned the body.
Jihadists in Raqqa, a city in eastern Syria which is controlled by the Islamic State, accused the man of committing acts of sodomy, and took him to the roof of a building in the town of Tal Abyad. A large crowd of spectators gathered at the area to witness the horror.
After publicly announcing the punishment, two militants blindfolded the man and threw him off the roof. Another militant who was standing on the roof watched him fall to his death. The waiting crowd then stoned his body.
Similar images released by the terror group surfaced last month, showing Islamic State militants in Iraq throwing two men, who were found "convicted" of homosexual acts, off the roof of a building as a large crowd gathered to witness the execution.
From Iraq to New York, a busy week for Islamic State
The execution is the latest incident in a string of recent vicious acts by the terror group this week. Little known to the wider world 18 months ago, the Islamic State extremist group has muscled its way into the international spotlight by carving out a self-declared caliphate in the heart of the Mideast, beheading its opponents and foreign journalists, and attracting radicalized youth as far afield as Paris, London and New York.
Christians abducted, artifacts smashed
In northeastern Syria, the militants swept through several villages and seized more than 220 Christians from their homes over a three-day stretch beginning around dawn Monday. The onslaught also forced thousands of people to flee to nearby cities. The fate of those kidnapped, almost all of them Assyrian Christians, remains unclear. The abductions have compounded fears among religious minorities in both Syria and Iraq, where the Islamic State group's fighters have repeatedly targeted minorities, killing them, driving them from their homes, enslaving their women and destroying their places of worship.
In northern Iraq, meanwhile, the militants took sledgehammers and drills to smash ancient Mesopotamian statues and other artifacts in the city of Mosul, including a winged-bull that dated to the 7th century B.C. The destruction, documented in a video posted online, is part of a wider campaign by the extremists to eliminate anything that they view as heretical. UNESCO's director general, Irina Bokova condemned the destruction, calling it "a deliberate attack against Iraq's millennial history and culture" and "an inflammatory incitement to violence and hatred."
London teens 'IS-bound'
The long reach of the Islamic State group was felt in London this week with the news that three teenage girls had left their families with the apparent intent of joining a friend who already was with the extremists in Syria. It was another indication that IS had at least some appeal to a small number of Britons who may believe propaganda videos posted online about the building of a caliphate in Syria and Iraq.
The CCTV photos of casually dressed Shamima Begum, 15, Kadiza Sultana, 16, and Amira Abase, 15, leaving London's Gatwick Airport on a Turkish Airlines flight to Istanbul captivated Britain for days. The girls' distraught families issued urgent, tearful pleas imploring the girls to turn back once they arrived in Turkey rather than entering Syria. Prime Minister David Cameron warned that every school and college in Britain needs to play a role in stopping people from joining what he called "an appalling death cult."
The search proved fruitless. London police said Tuesday that their information indicated the girls had successfully crossed into Syria, where they are thought to have linked up with the Islamic State group. Officials say 500 to 600 Britons have traveled to Syria to help the militants, with an increasing number of young women showing an interest in the group.
Jihadi John's identity revealed
The masked militant known as "Jihadi John" who has played a prominent role in Islamic State beheading videos was revealed this week to be Mohammed Emwazi, a Kuwait-born computer scientist who had moved to London with his family as a young boy. He had not been known to the general public, but had been seen by Britain's security services as a potential threat. It turned out they had questioned him several years ago — and, according to emails Emwazi sent to an Islamic support group, even tried to recruit him as an informer.
The case highlighted the difficulties Britain faces in trying to mitigate the terrorist threat. Security officials had questioned Emwazi because they believed he had been planning to join a terrorist group in Somalia, but he still was able to leave Britain and join militants in Syria. Cameron defended Britain's intelligence services, but Emwazi's ability to travel freely to Syria is seen as an indication that British police and security forces are simply overwhelmed by the number of people who are radicalizing.
Spillover to the US
The Islamic State group's ability to inspire devotion allegedly reached the United States as well, where authorities arrested three men Wednesday on charges of plotting to help IS and wage war against the US
Akhror Saidakhmetov was arrested at New York's Kennedy Airport, where he was attempting to board a flight to Istanbul en route to Syria. Abdurasul Hasanovich Juraboev had a ticket to travel to Istanbul next month. The third defendant, Abror Habibov, was arrested in Florida and stands accused of helping fund Saidakhmetov's efforts.
Prosecutors say Saidakhmetov, 19, also threatened an attack in the US if he was unable to join the Islamic State group. Juraboev's plans included attacks against US President Barack Obama or planting a bomb on Coney Island, officials said.
For the past year, the FBI has expressed worries about the flow of Western fighters to Syria. The Department of Justice has charged around 20 people in the past year with planning to travel to the Middle East to fight alongside militants, including from IS. US officials are concerned about Americans going overseas to train with these groups and returning with plots to carry out attacks at home.
Associated Press contributed to this report.