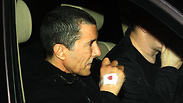 Eli Tabib after the shooting
Photo: Ido Erez
Eli Tabib, the owner of Beitar Jerusalem FC, was shot outside his home in the affluent Tel Aviv suburb of Kfar Shmaryahu after midnight Saturday.

Tabib, who was previously the owner of Tel Aviv's Hapoel FC, was slated to be sentenced Sunday morning after being found him guilty of attacking a minor - one of the club's fans – who protested outside Tabib's home.

Tabib sustained light wounds to his hands and massive police forces were present at the area.

Details of the investigation show that Tabib returned home after Saturday night's game in which his team beat Hapoel Petah Tikva. As he sat in his car prior to entering the house, where his family were waiting, a motorcycle carrying two people pulled up, which had most likely been following him.

One of the riders climbed off the bike, pulled out a gun and fired three shots at the driver's side of Tabib's car. One of the bullets hit the club owner in the hand.

Tabib was able to reach his neighbors, who called an ambulance. He was taken to Meir Hospital in Kfar Saba, where he was treated and released home a few hours later.

"It's all about the soccer," said Tabib after his release from the hospital. "True, it was an attempted assassination. Soccer is bankrupt. I need to sit down and think hard about whether to stay in the world of soccer and whether to remain in Israel at all or return to the United States."

Police are examining footage from security cameras in the area, including the main coastal road, in an effort to identify and locate the motorcyclists suspected in the shooting.

Police sources said that it was "only by luck that this did not end in more severe injuries. The gunmen shot at the driver, and it is a miracle that he was hit only in the hand".

Yarkon District Commander Brigadier General Yehuda Dahan is to set up a special team to investigate the incident.